A full used buyer's guide on the Alpine A110 sports car that has been on sale since 2017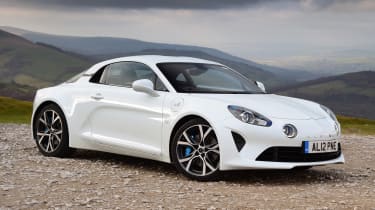 Verdict
The fact that all versions of the A110 have retained most of their value show just how desirable these cracking sports cars are. It would be easy to think that an engine that displaced a mere 1.8 litres could never be part of a recipe for a truly quick driver's car, but the Alpine proves that you don't need anything more. It's the same with the dual-clutch automatic transmission; some buyers have avoided the Alpine because there's no manual transmission available, but owners don't find this an issue. We like the A110 so much that it was our Coupé of the Year in 2019, 2020 and again in 2021. The A110 S lost out to Porsche's 718 Cayman GTS, but beat BMW's M2 CS, so while it's a brilliant car, it's not unassailable.
In 2025, it will be 70 years since the founding of a French car company that's something of an institution in France, but which never made it big in the UK, despite hugely positive coverage across the media. Alpine was set up in 1955 by Jean Rédélé, who used Renault running gear to help create his sports cars; then in 1973 Alpine was swallowed up by Renault.
More reviews
Car group tests
The best long-term car tests 2022
BMW M2 CS vs Porsche 718 Cayman GTS vs Alpine A110 S
In-depth reviews
Long-term tests
Alpine A110 GT: long term test review
Road tests
New Alpine A110 R 2023 review
New Alpine A110 S 2022 review
New Alpine A110 Legende GT 2021 review
New Alpine A110 S 2020 review
Back in the eighties Renault tried to conquer the UK market with its Alpine GTA, but despite glowing reviews, the car struggled to sell; its successor, the A610, suffered the same fate, leading to Alpine closing down in 1995.
Renault then revived the brand in 2017 with an all-new aluminium-bodied sports car, which is sublime but hasn't set the market alight. Plus ça change.
History
The A110 reached UK showrooms in spring 2018. At first, only a Premiere Edition was offered, but a few months later the Pure and Legende arrived, all with a 248bhp 1.8-litre four-cylinder engine. For those who wanted more, the A110 S arrived in September 2019, with a 288bhp engine, stronger brakes and revised suspension settings.
In March 2022, the range was restructured, with buyers able to choose between the A110, the A110 GT and A110 S, the last two featuring a 296bhp engine. From this point the infotainment was upgraded and new extra-cost equipment packs were introduced.
In October 2022, Alpine launched its most hardcore model, the A110 R, with trick aerodynamics, weight-saving measures, a lowered ride height and uprated brakes, giving it even stronger performance.
Which one should I buy?
Values stretch between £42,000 and around £70,000 (new ones cost up to £100,000). Even the slowest A110 can do 0-62mph in 4.5 seconds, reaching a top speed of 155mph, while kerb weights are all around 1,100kg.
Equipment levels are okay rather than lavish; the Pure came with LED headlights, electrically adjustable and heated door mirrors, electric windows, a seven-inch touchscreen, climate control and Sabelt single-piece bucket seats.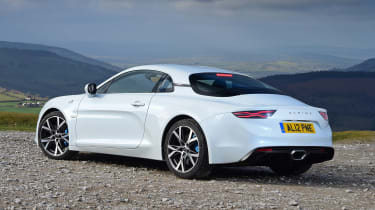 The Legende added front and rear parking sensors, more adjustable Sabelt leather seats, a rear camera and 18-inch wheels in place of the Pure's 17in items.
The more powerful A110 S featured a high-performance brake package and a sports exhaust. The brake and exhaust systems were optional on lower models.
Alternatives to the Alpine A110
Lightweight sports cars aren't really big business, so true rivals to the Alpine are few and far between. The obvious one is the Lotus Elise, along with its sibling, the Exige, which are fabulous to drive. The Porsche Cayman comes with good build quality, a highly rated dealer network and a deeply impressive driving experience. It also offers much greater usability than the Alpine.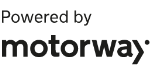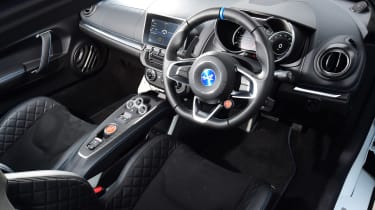 In one forum, a 6ft 6in owner commented how roomy the cabin was for him, so if you're on the lanky side and want to drive a brilliant sporting coupé, then look no further.
However, as you'd expect, carrying capacity isn't a high spot. The A110 has two luggage spaces: up front is a 96-litre boot, while in the back is one that can stow just 100 litres.
Prices
The market isn't awash with used A110s, although we found more than 150 for sale. The most common variant is the GT,  followed by the S.
To check prices on a specific model head over to our valuation tool.
Running costs
All A110s need to be serviced every 12 months or 12,000 miles, with maintenance costs disappointingly high for a car with such a small engine.
Every service is £538 and includes an oil and filter change, along with a fresh cabin filter. You'll have to pay another £178 every three years for fresh brake fluid, and £242 every fourth service for the gearbox oil to be replaced, while the coolant has to be renewed every five years and you can expect to pay another £384 for that. At least the A110's engine is chain-driven so there's no cambelt to replace, which shaves a bit off the costs.
The A110 comes with a three-year warranty with unlimited mileage for the first two years, but there's a 60,000-mile cap by the end of the third year.
Recalls
The A110 has been recalled on three occasions so far, and all of them were in 2019. Two recalls were issued for separate faults on June 11, the first for 206 A110s built up to February 2019. Some of these left the factory with the front luggage compartment retaining bolts incorrectly tightened, which could lead to the bonnet flying open as the car was being driven. The other recall issued in June 2019 was because 166 A110s made up to November 2018 were fitted with a wiring loom that could chafe against the exhaust, leading to an electrical short circuit.
In July 2019, the most recent recall came because 240 A110s manufactured between September 2018 and July 2019, because of oil pressure problems with the engine. A software update was all that was needed.
Driver Power owner satisfaction
With an estimated 200 or so A110s sold in the UK each year, the Alpine has never featured in any new or used Driver Power surveys. There are also no owner reviews on carbuyer.co.uk, but a trawl of owner forums (including for Lotus and Porsche) suggest that those who have bought an A110 have no regrets. Quite the opposite; they're bemused as to why the car hasn't been more of a hit.
Looking to sell your current car quickly and for a good price? We've partnered with Motorway to bring you the best offer from its network of UK dealers…
Source: Read Full Article