In nutshell, the Gypsy days are back again, with advanced electronics and much more comfort!
BHPian Samba recently shared this with other enthusiasts.
Had a fantastic Independence day OTR.
Spent few hours with the two Jimny-s!
The red one is owned by Bhpian Sadnabrina, shod with Yoko Geolander 215/75 R15 & the Grey one is owned by Bhpian Shourya_lahiri, and this one runs on stock tyres. Both the cars are Alpha MT.
Few of my observations about the Jimny-
It is best to keep the traction-control off, even on 4-high, unless one is driving on a surface where there are chances to dig in if more power is applied to the wheels.
With the traction control off, the car practically does not stall. When it's on, the chances of stalling increases. This is because whenever the car detects a wheel spin, the power to the wheels get cut.
It will be even better to disable the HHC by pressing the traction control switch for few seconds in 4L. Once it is disabled, the message will be shown in the MlD. This prevents from unnecessary delaying while rocking the vehicle on an incline or slush.
During offroading, this car does not lacks power. We have tested it on inclines, slush, sand and it performed beautifully. To fail a Jimny, one has to get the vehicle beached. Else, I can't imagine of any obstacle where this car won't complete due to the much hyped 'lack of power'. A Jimny with a lift kit & AT/MT tyres can do wonders!
The BLD in front and rear works flawlessly. Just hold on to the revs, the BLD kicks in seamlessly.
This car feels solid & well-built.
On slush, till the running board this car got stuck, as when the Jimny was driven into the mud pit, the driver lifted his foot from the accelerator. But with 10-12 times of rocking the car front and back, it managed to get out of its own. Reducing the tyre pressure, would have helped.
While driving on slush/water with a height of above the door sil, water entered into the cabin through the left door. The water can be drained out by opening the drain plugs located under the carpet.
Stock tyres are more than adequate. 215/75/R15 is a good choice too. Anything above that won't be suggested without a lift kit.
On sideway tilts, the Jimny subjectively felt a bit more tilted due to its narrower width when compared with other wide-bodied SUVs like the Thar.
In nutshell, the Gypsy days are back again, with advanced electronics and much more comfort!
Maruti got this car spot on for it's purpose.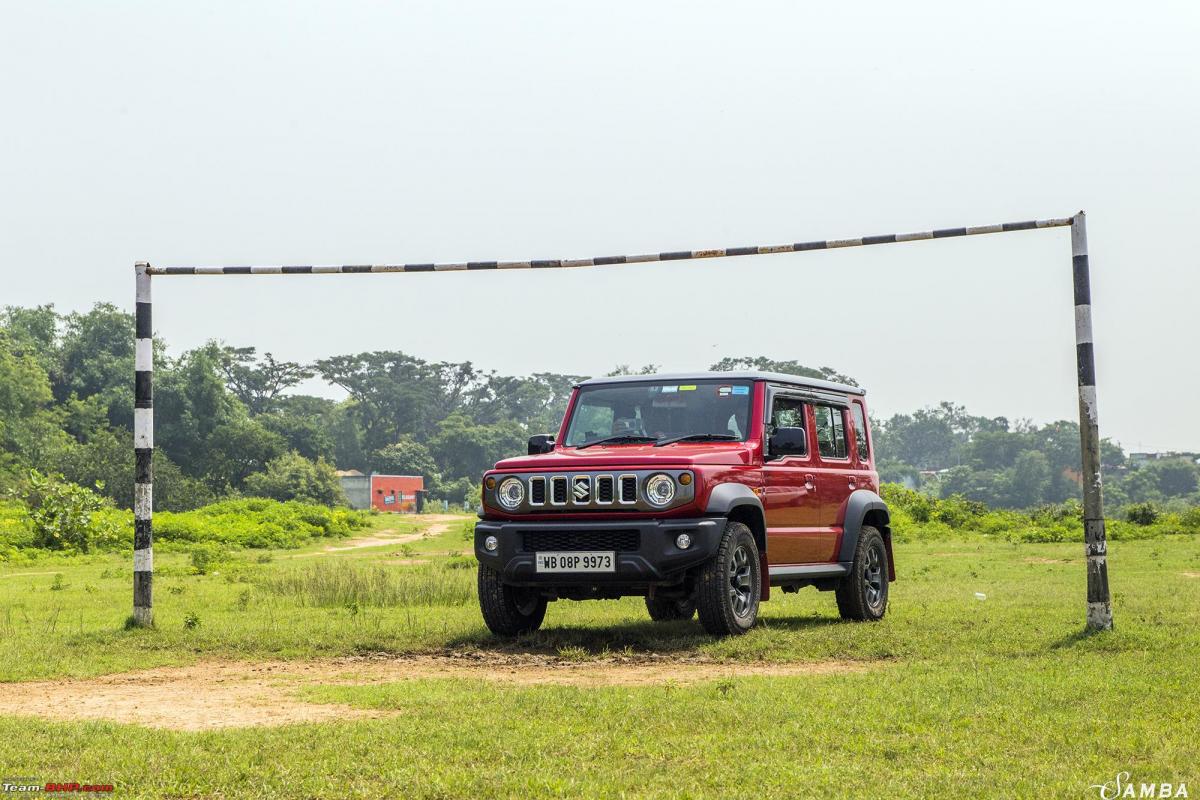 Mr.Adhiraj Singh checking out the Jimny.
Few action pics-
Pic courtesy- DBhpian SS-Traveller
Read BHPian comments for more insights and information.
Source: Read Full Article