Your car needs to be taxed and insured to be legally allowed on UK roads. Here's how to check that you're covered…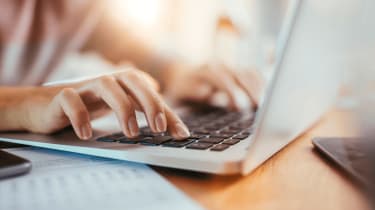 If you want to check whether a car is taxed and insured in the UK, all you need is the registration number and access to the internet. Looking up a vehicle's tax and insurance status is easy. It can be an important reminder, too, as failing to keep these up to date can quickly result in heavy fines or points on your driving licence.
When checking whether a car's Vehicle Excise Duty (VED) road tax has been paid, you'll also be provided with its current MoT status. This, combined with an insurance check, means you'll have all the information you need to keep things safe and legal. 
How to check a car's tax and insurance
Got the registration number at the ready? Read on to learn how to check a car's tax and insurance status in the UK.
How to check if a car is taxed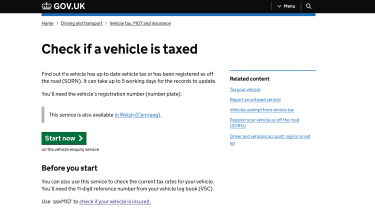 The UK Government provides a free online tool on the GOV.UK website that can quickly check whether a car's Vehicle Excise Duty (VED) road tax has been paid, and if it has a valid MoT. Here's how to use it:
Visit the 'check if a vehicle is taxed' page on the official GOV.UK website.
Click 'start now'.
Type in the vehicle's registration number and click 'continue'.
Some preliminary information will now appear in order to confirm that you are searching for the correct vehicle. Double check this information and, if you're happy to proceed, select 'yes' then click 'continue'.
A full page of information about the vehicle will now appear. At the top of the page are its current tax and MoT status. These will be highlighted in red or green: red means that the car is not currently road legal while green means the tax or MoT is valid.
There is also an option at the bottom of the page that will allow you to check your car's tax rate. You will need the latest 11-digit reference number from the V5C registration certificate in order to do this.
The tax checker includes a quick overview of a vehicle's current MoT status, but if you want a more detailed record of the mileage and MoT history, there is another tool available. This can prove especially useful when buying a used car. We've got a complete guide to this MOT checker, and you can find the checker itself on GOV.UK.
How to check if a car is insured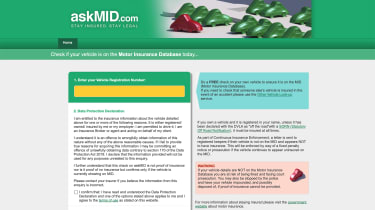 Information about a car's insurance is more sensitive. You can still find out if a car is insured, but only if you have the correct permission to do so. As with road tax, the process for checking insurance is a simple one:
Visit the official Motor Insurance Database checker website (also known as AskMID).
Enter the vehicle's registration number.
Carefully read the Data Protection Declaration, and if you are happy to proceed then tick the confirmation box to agree. You will also need to submit a reCAPTCHA test to confirm that you are not a robot.
The following page will then simply provide you a yes or no answer to the question of whether the vehicle is insured.
What if a car's tax or insurance details are wrong?
If you know that a car's details are incorrect, it's important to rectify this as soon as possible in order to prevent any legal issues from arising. If you have only just taken out insurance or taxed a car on the very same day, it can take a little while for this to show up on checker websites. If the information still isn't right by the following day, you will need to contact the appropriate authority in order to resolve it. If your insurance status is wrong, contact your insurance provider. If your tax status is wrong, contact the Driver and Vehicle Licensing Agency (DVLA).
What tax band is my car in?
Is car tax transferable?
Can I drive an uninsured car with my own cover?
Can you tax a car without insurance?
How do I cancel my car tax?
How long is car tax valid for?
How can I tax my car?
Now learn more about VED road tax by reading our in-depth guide…
Source: Read Full Article