After driving the car for 20 minutes, I started to see all kinds of warnings on the instrument cluster.
BHPian saisree recently shared this with other enthusiasts.
My Seltos got two intruders last Tuesday. It has been parked for almost a week untouched and the recent rains have made these intruders check for a new home.
As usual, I took the car out of my parking space on Tuesday morning and parked it to close the gates. There was some unusual noise from the engine bay, and I saw a well-grown rat come out of the engine bay. It struggled to come out and believe got hit by the radiator fan. It had its last breath and died on the spot. Instant Karma!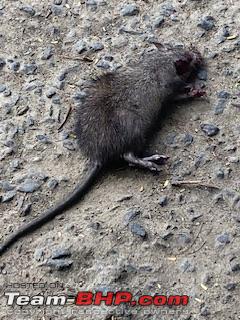 Opened the bonnet and did a quick check on the probable spaces in the engine bay and did not find any issues. There were no alerts in the MID and so thought of driving the car.
I had a constant check on the MID and 5 mins into the drive, saw a Low Battery issue. AC was not cooling. Called the KIA Service center immediately and said I was driving there for a check. 20 mins later, I started to see all the alerts ABS, ESC, TPMS, Airbags and power steering flashing. Steering became hard and I managed to park the car on the shoulder and turn it off.
Used the KIA Connect and called for roadside assistance and got a prompt response and a recovery van was arranged in an hour FOC. Tried to start the car, and it started, and I drove it to the top of the recovery van. Car was taken to the Capital Service center at Perungudi.
Explained the details to the SA and asked him to do a thorough check. Found that there was one more rat that got stuck in the alternator drive belt and it was not rotating. So, all the components started to consume power from the battery and 20 minutes into the drive, the battery got depleted and hence all these alerts. Battery was charged and the car was tested for any issues. Luckily I did not have any bites or cuts in the wires.
ASC washed the car and handed it over to me with a bill for Rs 750/-. Did a 350 km-long drive the last weekend and did not find any issues.
Have to appreciate the KIA RSA and the KIA ASC for their prompt service and constant follow-ups.
Check out BHPian comments for more insights and information.
Source: Read Full Article