I was disappointed by one thing but I have to admit that when I went back and sat in my BMW, it made me feel a little poorer.
BHPian mobike008 recently shared this with other enthusiasts.
Test Drive Report of 2024 Porsche Macan S
The biggest Porsche dealer in Washington is located in Bellevue, WA. I have passed the dealership plenty of times and always used to ogle at the glorious cars parked when I stop at the red light. Never dared enter the dealership as always thought these cars were beyond my reach.
Last week on Friday afternoon when things at work lulled, I called them to book an appointment for Sunday. Since we were going to be in the vicinity to watch the new raving SRK movie (Jawan)- It's another story I was able to tolerate Jawan because of this beautiful test drive. LOL!
Things fell into place beautifully. I scheduled a 12:30pm appointment (we were scheduled for the movie at 2:00pm in a nearby theatre) and the sales advisor (SA) mentioned that they will only have a base Macan available as the S and GTS is usually not available and they don't give it out for test drives as they don't like to put miles on the car.
I was ok as most importantly, I wanted to get a feel of the Macan than anything else.
Reached the dealership 15 minutes in advance as I wanted to spend as much time with the car as possible. My SA was busy delivering a Porsche 911 and he tagged me to another young SA. I coaxed him into getting me an S instead of the base version for a test drive instead.
The only dampener was he wanted to ride with us which took some part of the fun away as I had to be conscious not to give it the full treatment. Our entire test drive lasted for about 45 minutes covering around 30 miles through freeways and back-roads based on the route he suggested.
I went in the BMW X3M40i to the dealership, so I could get a back-to-back drive experience between the two vehicles.
Here is my brief feedback on my test drive of a 2024 Porsche Macan S which was highly optioned and rated at 375 Horsepower and the exact one that I drove was available for sale at $92,000 MSRP.
Sorry for not having proper pictures and videos as I didn't want to embarrass myself doing that in front of the SA but, still managed to sneak in a few pictures.
Interior and Build Quality
As soon as I stepped into the cabin the rush of blood (not the ones that run in my veins) red color greeted my eyes. It looks pretty at first sight but, will someone be able to live with such garish color in the cabin is anybody's good guess.
The color, quality of the materials everything looked at least 2 steps ahead of the BMW. Interiors are absolutely marvelous. It's no doubt, next level to a BMW.
Exteriors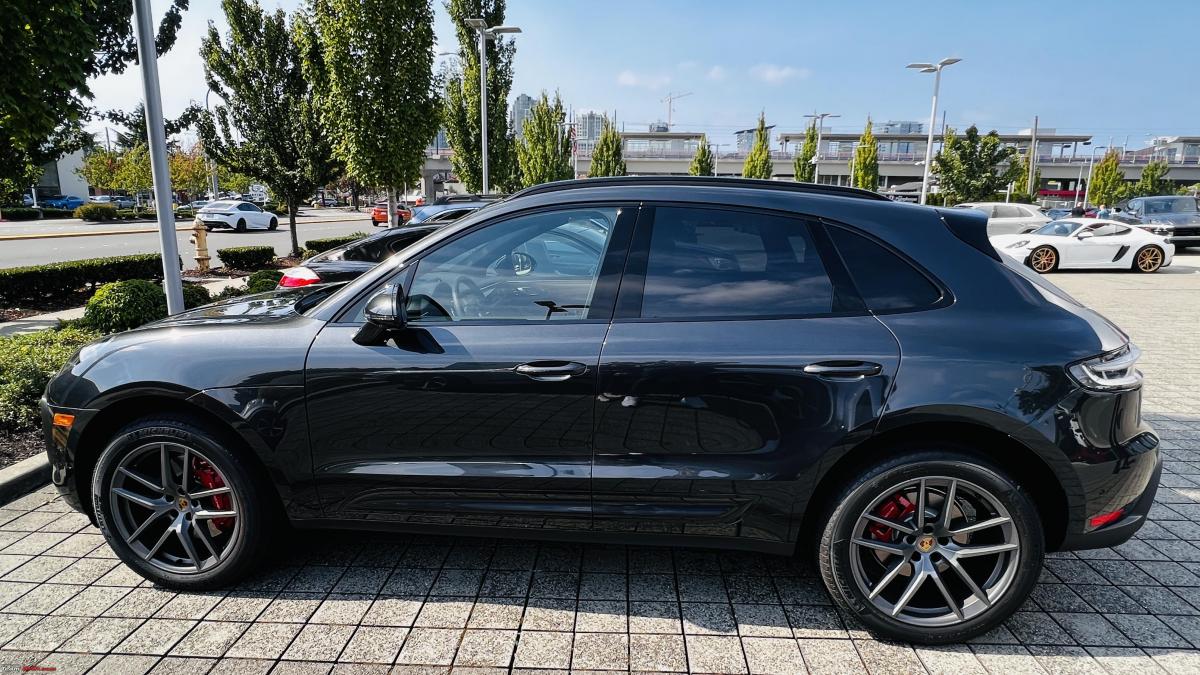 This TD Macan S was in a dark metallic gray color. Not a fan of the color. I would prefer the Macan in brighter and fun shades which is what I see mostly on roads (Burnt Orange, Wine Shade, Parrot Green etc) and gives them a sporty character. This one looked dull and did not stand out from a road presence perspective. I think the X3 is more handsome in comparison.
Here is a picture taken outside IVARS (Grabbing some fish and chips before the movie starts) where coincidentally, I parked next to an older version of Macan.
Perfomance & Handling
This version came with a lot of bells and whistles and had the sports chrono package which means you can change the modes from that round dial you see on the steering wheel.
Started the car, folks who don't know about Porsches. Their key/ignition start button is on the left side. Most Porsches still use a "Key" that you twist to bring the engine to life. I think it's supposed to give an overall mechanical and Porsche feel.
Engine came to life with a small rumble (way more meeker than my B58) and we made our way out. With me at the steering, we made our way out of the dealership and with SA giving instructions on where to turn etc.
We drove around Bellevue and took the I90 then got back to 520 which has plenty of curvy roads on the freeway. I toggled between Sports and Sports + (Same like BMW has 4 modes, the other two being Standard, Individual).
Steering Feel
The steering wheel felt nice with full leather, good weight and soft to hold. The feedback was accurate and felt great.
Suspension
This is the major difference. The suspension was so amazing that it felt super comfortable. When I got back to the X3, it made me realize that it's a little bit harsher in comparison.
Handling
This is the best part. You take turns as if they don't exist. I did many accelerations and in some instances went up to 90mph (80mph zone) and accelerated to merge and exit freeways (this is where power is required). Macan was taking turns or bends so easily, it was actually boring. It was doing it like "Mr. Cool Head" and I was totally zapped with the handling. Man, I can only imagine what their sports cars are capable of.
Performance
Macan S is 375 HP. However, this was the biggest disappointment.
The car "did not" feel similarly powerful than my BMW. Even in Sports+ it didn't give me the thrills that I am used to in my BMW.
In the BMW, activate Sports + and the power is right on the surface of the pedal. There is no need to depress the pedal much (Folks who own a B58 will know what I am talking about). Gentle depression of A-pedal, car go bonkers.
I did not get the same feel in Macan S. I was pressing the A-pedal with more strength than I would have liked to get its full juice out and to go up to the aforementioned speeds. Perhaps, GTS gives the same acceleration feel as my BMW X3M40i. But, Macan S does not accelerate like my B58.
This was the biggest disappointment of the test drive.
At $92K, Macan S does almost everything either 1-level or 2-level better than the BMW but, it didn't feel exciting enough or a major upgrade to my BMW.
Upgrading to a Macan S just for its superior handling and build quality is not worth it, especially with my ownership background. Fresh off, someone driving the Macan S will love it.
Final Thoughts
Though, I have to admit that when I went back and sat in my BMW, it made me feel a little poorer despite my BMW having all the options.
I have decided to spend the next couple of years with my beloved Blau Rakete and, apply some minor mods to it to keep my ownership lively till my Porsche itch re-surfaces again (for now, Porsche Macan itch is gone).
I know that one day, I need to get a Porsche. This test drive just cleared my mind that my aim should be for a higher-end, more powerful and probably a different Porsche but, definitely not the Macan.
Check out BHPian comments for more insights and information.
Source: Read Full Article