We had almost finalised the Genesis GV80 but my dad saw the GMC showroom nearby and was tempted by the butch looks of the Tahoe and Yukon.
BHPian tanbeamer recently shared this with other enthusiasts.
It was April 2022, when Dad decided that he was done with having low-slung cars. A lot of it was driven by the fact that he started to do a lot of long-distance driving in the UAE (Dubai-Abu Dhabi runs) on a daily basis which started giving him back pains.
So the hunt for the right SUV began for him. The main shortlists were Genesis GV80, Nissan Patrol, Infiniti QX80, and Ford Expedition.
Nissan Patrol – Went for the test drive and came really impressed with the car. But with the full option variant V8 model costing 320,000 AED and with wait times of over a month, plans for it went on hold.
Infiniti QX80 – Outrightly got rejected by mom due to its looks. Dad too wasn't keen on it because of its lack of appeal in the UAE market.
Ford Expedition – Went for the test drive. But wait times of more than 3 months meant that we had to drop this
Story of Genesis GV80 vs GMC Yukon
Dad happened to see some videos of the Genesis GV80. And he was really impressed. So we happened to go to the Genesis showroom in Deira for a test drive. We really liked the GV80 and had plans to come the next day to the showroom to book it.
As we stepped out, Dad saw the GMC showroom nearby he was tempted by the butch looks of the Tahoe and Yukon. I wasn't too keen because of a lacklustre sales experience at a different branch of the same dealer. In fact, I didn't even want to enter the showroom.
Dad wanted to still check out and entered the showroom. To our pleasant surprise, we were greeted by an enthusiastic sales advisor who sat down and explained the deals on the Tahoe and Yukon.
We initially went for a test drive in the Yukon Denali. And it came good on all our requirements. The 6.2 V8 and 10-speed Automatic just seemed to be in perfect harmony. Also despite the Yukon being a BoF SUV, comfort was top notch and body control was also good. All this combined with a price of 300,000 AED post discounts with immediate delivery made it seem like a very value-for-money deal.
Just for reference, we also test-drove the Yukon AT4 with the 5.3 V8 as well. But that felt very sluggish compared to the Denali and that was enough to convince us. One week later we took delivery and got it home.
Full details of the exact deal
Price of the Yukon Denali – 300,000 AED
Insurance (done on our own) – 3500 AED
Warranty – 5 years or 150,000 Km
Service package – 5 years or 150,000 Km
The total price of the car – 303,500 AED
More in part two when I get time to write, till then here's a parting shot from the day of delivery.
Also – One year down the line, another GMC joined us last week. More on that later as well.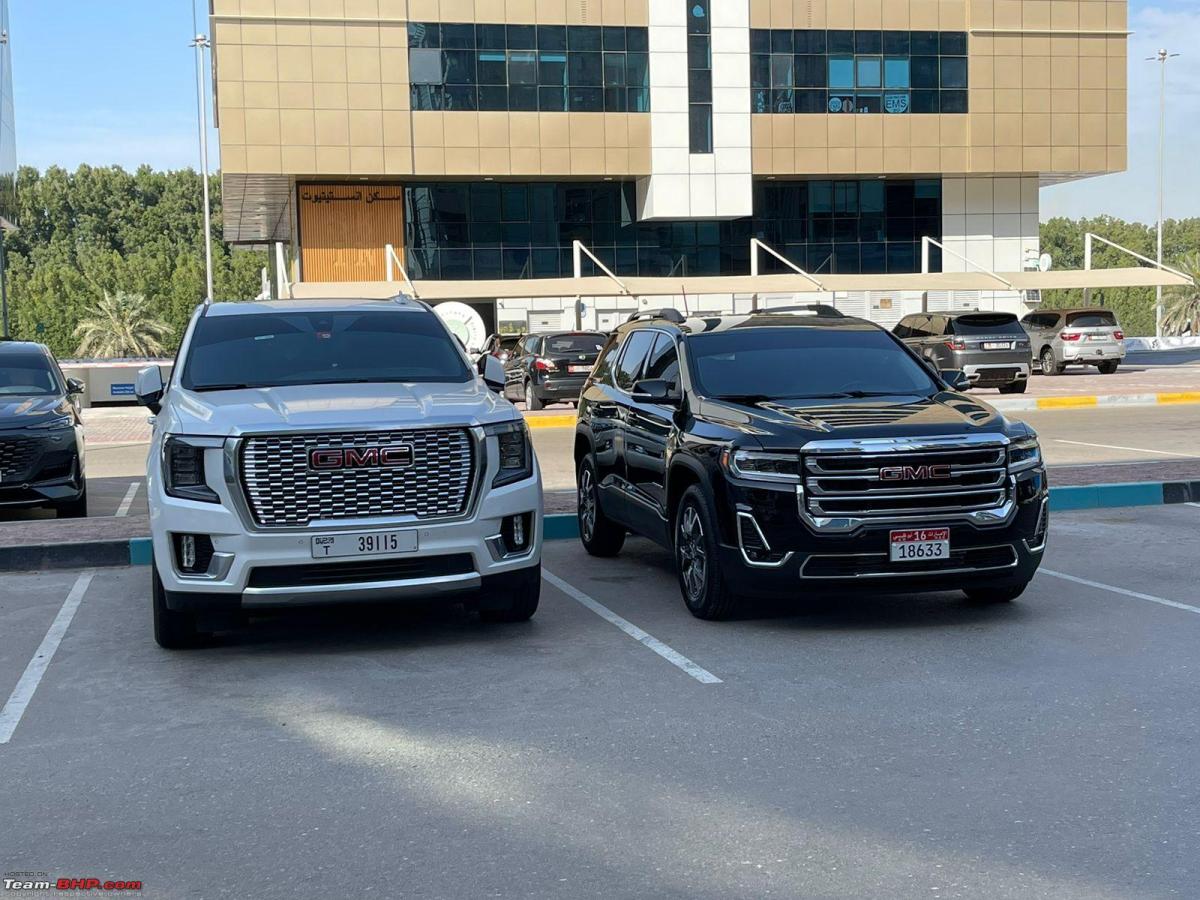 Update – Part 2
As I write this out, the total time that I have spent with the car is now close to 1.5 years with roughly 28000 Km on the odometer. Has been smooth sailing so far.
Here's what I feel about the car
The size is definitely something that needs getting used to. It was intimidating for everyone in the family for a better part of the first three months. In fact, Mom is still hesitant to drive it while Dad and I have become comfortable.
The 6.2 V8 has oodles of torque. You don't feel the need for additional power although GM's dealer is working on a supercharger build for this model of the Yukon in the coming days to be sold to customers. The current is more than sufficient and moves this truck smartly. This engine is one key factor behind the Yukon masking its weight.
The audio quality is top-notch. While Bose in-car audio isn't really considered to be good in many vehicles, when it comes to GM vehicles, they really nail the audio quality. The infotainment system too is very good. We haven't faced any bugs with wireless CarPlay although there were some issues with the wireless Android Auto. But other than that, the system is quick to respond and easy to use.
From a comfort standpoint too, there is nothing to complain about. The seat bolstering is very good, and the cushioning is perfect. The firmness of the cushion is good for long-distance driving particularly. Especially when I have to go to the cricket ground (which is roughly 220 km one way) or when I have to drive from Abu Dhabi to Ajman (which is another 400 Km round trip).
The Adaptive Cruise control and lane keep assist reduce stress when driving for extended periods of time, although I wished that GM implemented the lane keep assist the way Honda does. This is a bit of a nitpick for me.
The other nitpick I have is that the panel gaps could've been a bit more uniform, but I guess that's a common theme across most American cars.
Overall, everyone is happy with the car. There is very little to complain about and Dad is pleased with the buy.
Will keep updating the thread with time. I will give the next update after we cross 40,000 Km.
Check out BHPian comments for more insights and information.
Source: Read Full Article