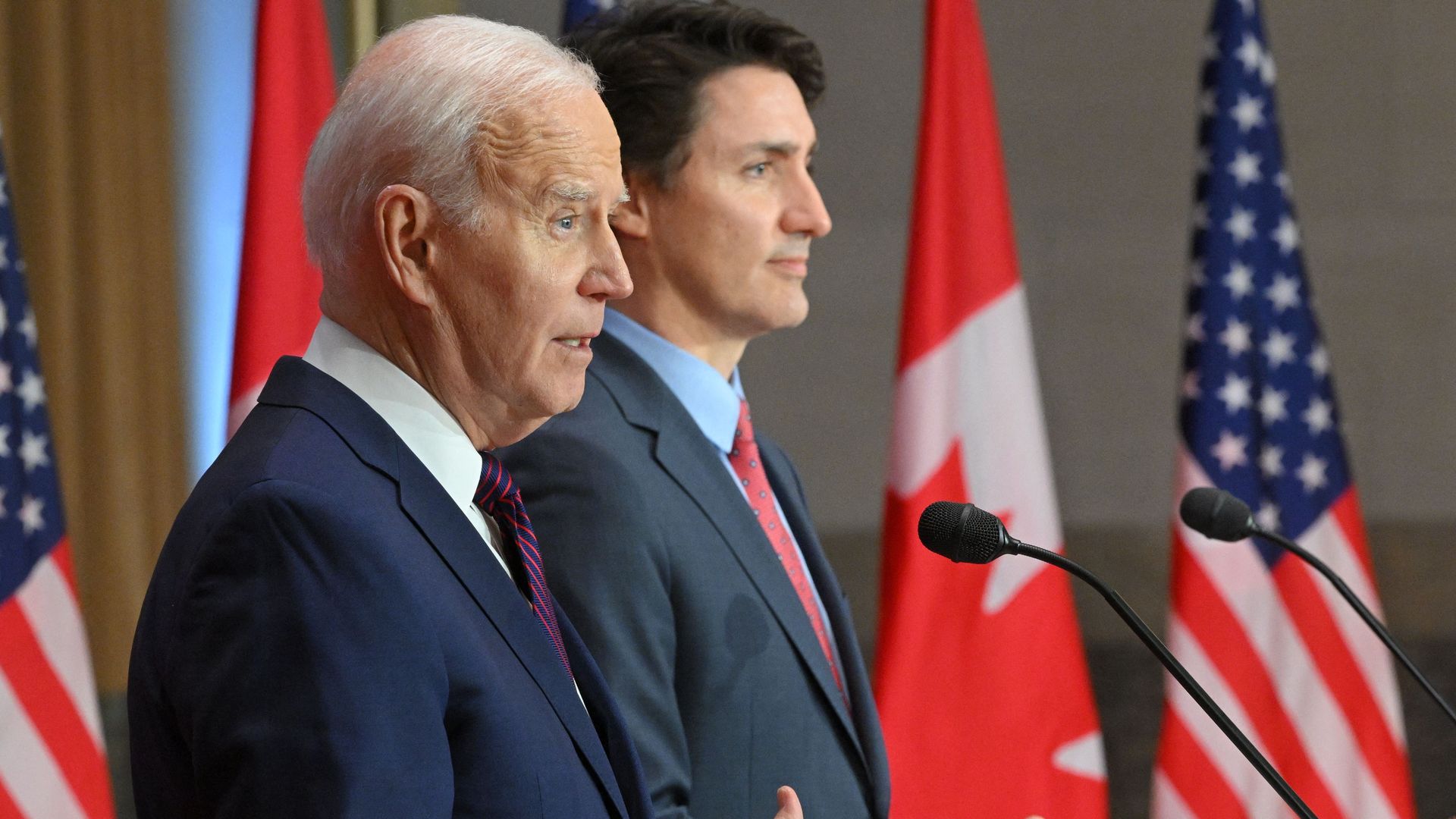 U.S. President Biden and Canada's Prime Minister Justin Trudeau hold a joint press conference at the Sir John A. Macdonald Building in Ottawa, Canada, on March 24, 2023. Photo: Mandel Ngan/AFP via Getty Images
The U.S. and Canada have struck a new agreement that will allow them to divert some asylum seekers amid a surge in entries at the northern border.
Driving the news: The deal closes a legal loophole that allowed migrants traveling from the U.S. to Canada to apply for asylum if they used unofficial crossings — and vice versa.
The announcement came during Biden's first official trip to Canada, where he met with Canadian Prime Minister Justin Trudeau. It amends the Safe Third Country Agreement (STCA), which was first signed in 2002 and has been in effect since 2004.
The previous policy only allowed each country to turn back asylum seekers who entered at official ports of entry.
Trudeau pressed the U.S. to update the agreement after a spike in migrants entering Canada through unofficial crossings — particularly along the border between Quebec and New York, CBC reports.
Details: Canada will also "welcome 15,000 migrants on a humanitarian basis from the Western Hemisphere over the course of the year, with a path to economic opportunities to address forced displacement, as an alternative to irregular migration," according to a press release.
The big picture: The Biden administration has in recent weeks announced several new policies to deter migrants and asylum seekers from illegally crossing the U.S.-Mexico border.
Administration officials have lauded the new policies as a success — migrants and asylum seekers attempted to cross the U.S.-Mexico border 156,000 times in January, a 40% drop from December.
Yes, but: Biden faced backlash last month from immigration advocates over a proposal that would bar migrants from seeking asylum if they attempt to cross the southwest border illegally without first asking for protection in a country they traveled through.
He also drew condemnation for considering once again detaining families that illegally cross into the U.S.
Meanwhile, rights groups in Canada have challenged the legality of the STCA in the courts on several occasions, arguing that it violates refugees' rights and freedoms.
Advocates hope that a case before Canada's Supreme Court will deem the policy unconstitutional after appeals courts twice upheld it.
Worth noting: House Republicans have pushed forward with an investigation of Biden's border policies.
Go deeper: Hispanic lawmakers grill Mayorkas over new border policies
Source: Read Full Article