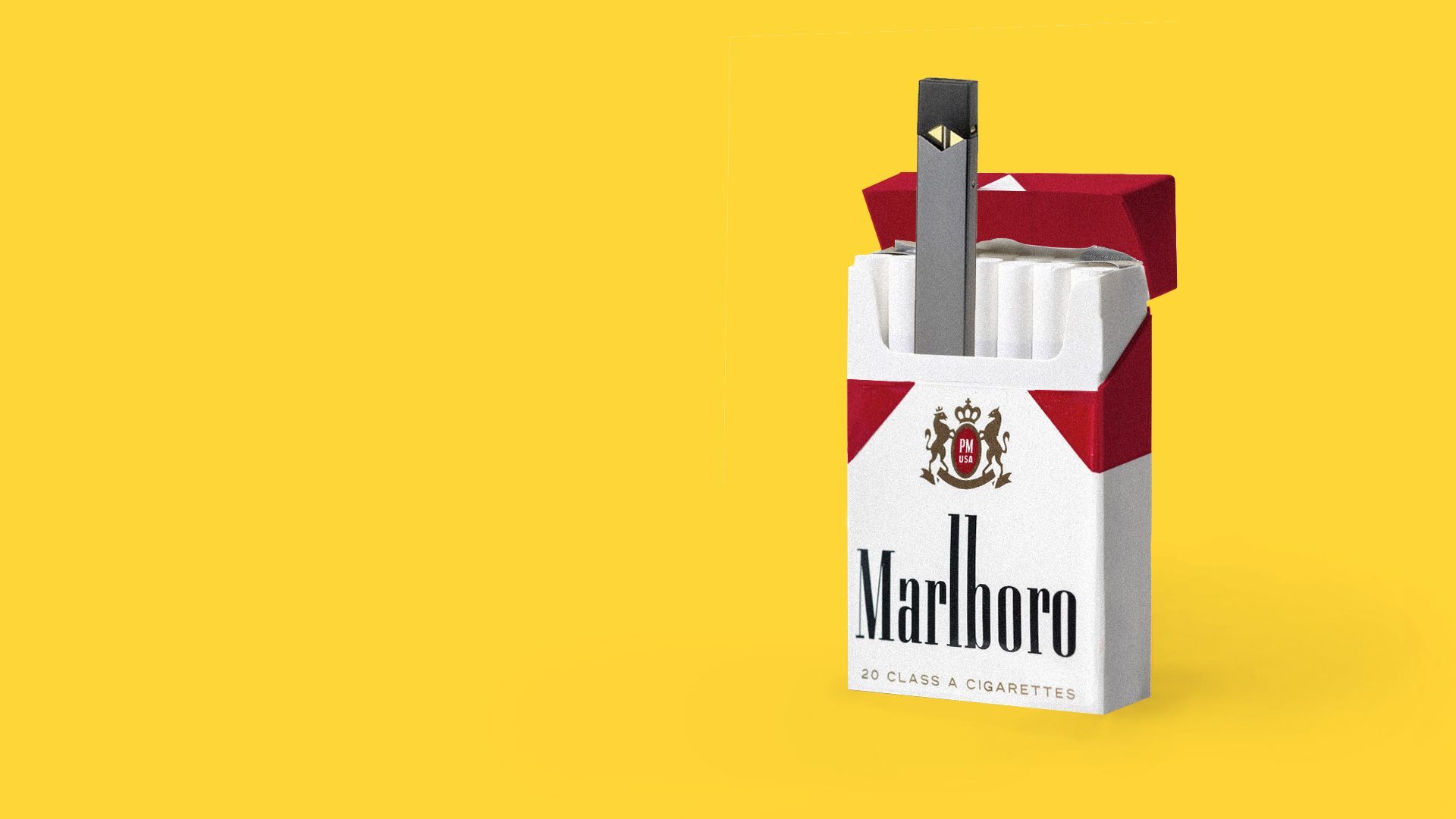 Illustration: Aïda Amer/Axios
Altria Group has agreed to buy e-cigarette company NJOY for around $2.75 billion in cash, and exit its minority investment in vaping company Juul Labs.
Why it matters: The Marlboro maker is officially switching electronic horses, five years after burning $12.8 billion for a 35% stake in Juul.
Details: Altria could pay up to another $500 million for NJOY, based on earnouts tied to regulatory approvals.
The sale of its Juul stake, valued at just $250 million at year-end 2022, is in exchange for a non-exclusive global license to the company's heated tobacco IP rights.
What Juul's saying, per an official statement: "We are no longer limited by the terms of those agreements to pursue other strategic opportunities and partnerships. We are free to take advantage of a range of options to maximize the value of our company while we continue to advance our leading product technology and innovation pipeline.
What Altria CEO Billy Gifford is saying: "We believe exchanging our Juul ownership for intellectual property rights is the appropriate path forward for our business. JUUL faces significant regulatory and legal challenges and uncertainties, many of which could exist for many years. We are continuing to explore all options for how we can best compete in the e-vapor category."
Cap table: NJOY raised over $180 million in venture capital funding prior to a 2016 bankruptcy, after which it was acquired by Mudrick Capital Management and Homewood Capital.
It raised hundreds of millions of dollars in subsequent funding from firms like ArmaVir Partners and Northwood Ventures.
The bottom line: We previously wrote that Altria's deal for Juul was the worst corporate investment of all time. Today's news makes it official.
Source: Read Full Article