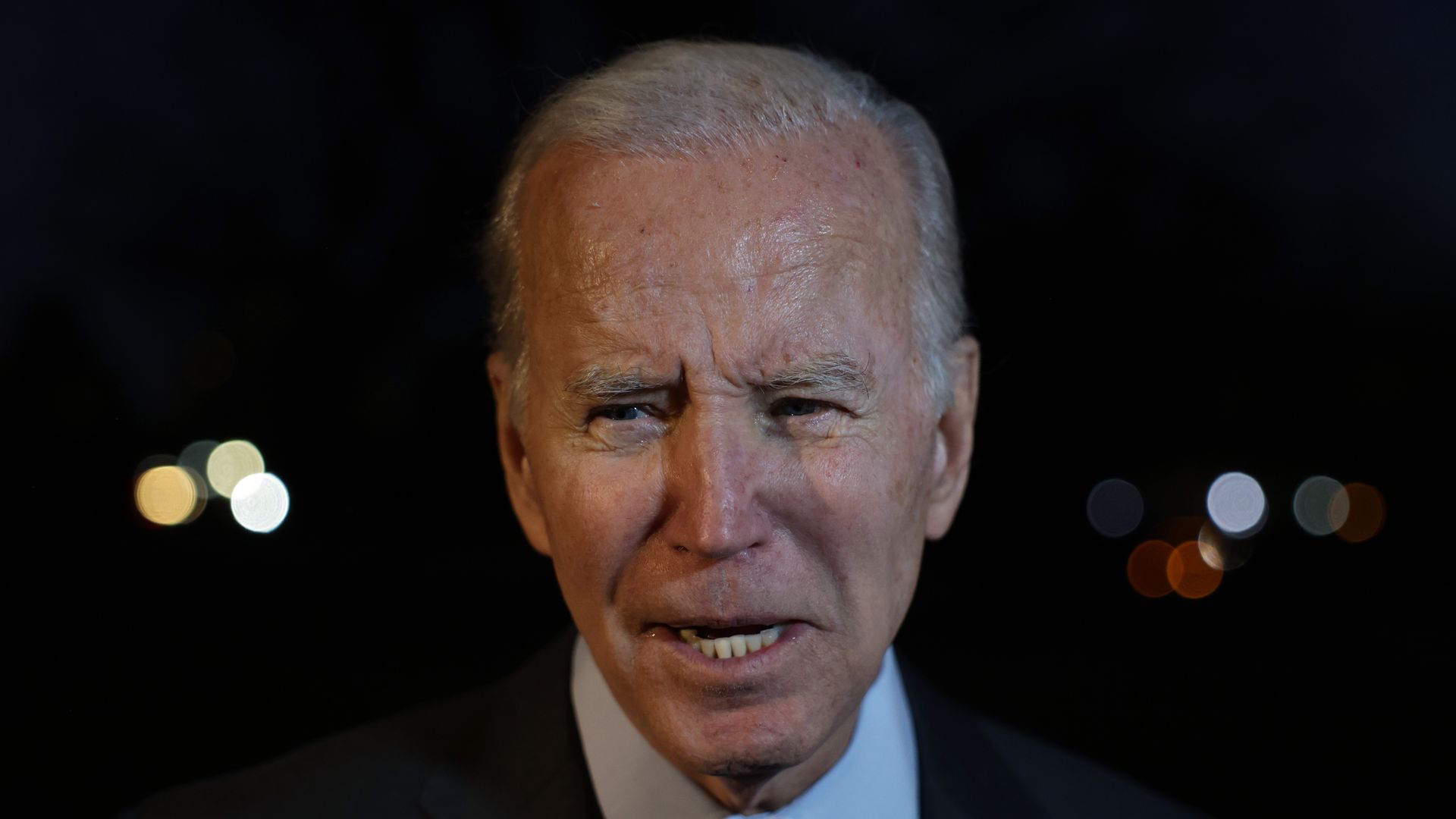 President Biden speaks to members of the press prior to his departure from the White House to Camp David on Jan. 27. Photo: Alex Wong via Getty Images
Over 16 million people have been approved for debt relief under President Biden's student loan forgiveness plan in the less than four weeks that the application was available, the White House announced this week.
Why it matters: The program is currently on hold while the Supreme Court considers a legal challenge brought by a coalition of GOP-led states. Millions of borrowers will remain in limbo until the court's ruling, which is expected this summer.
By the numbers: The new data, which provides a state-by-state breakdown, shows that more than 61% of the 26 million people who have applied or are automatically eligible based on information submitted to the Department of Education have had their applications fully approved and sent to loan servicers for discharge.
Over 40 million people would qualify for the debt relief program, which was intended to ease debt amid pandemic-related hardships, according to the White House.
The big picture: As the Biden administration is gearing up to make its case before the court when oral arguments begin on Feb. 28, opponents have intensified their attacks on the program, accusing the executive branch of overreaching.
The Department of Education removed the debt relief application from its website after an appeals court temporarily blocked the debt relief program.
The Biden administration asked the Supreme Court to lift the order shortly after.
What to watch: In written arguments submitted Friday, the coalition of six GOP-led states —Arkansas, Iowa, Kansas, Missouri, Nebraska and South Carolina — laid out its main claims, arguing that they will suffer financial losses as a result of Biden's plan.
Missouri argued it would deal a blow to the state's own student loan service, while four of the states said the plan would significantly decrease their tax revenues.
They also doubled down on the claim that the program exceeds the authority of the Education secretary.
Worth noting: If the court strikes down the program, it's unclear what actions the Biden administration will take to minimize the impact on borrowers whose applications have already been approved.
Source: Read Full Article