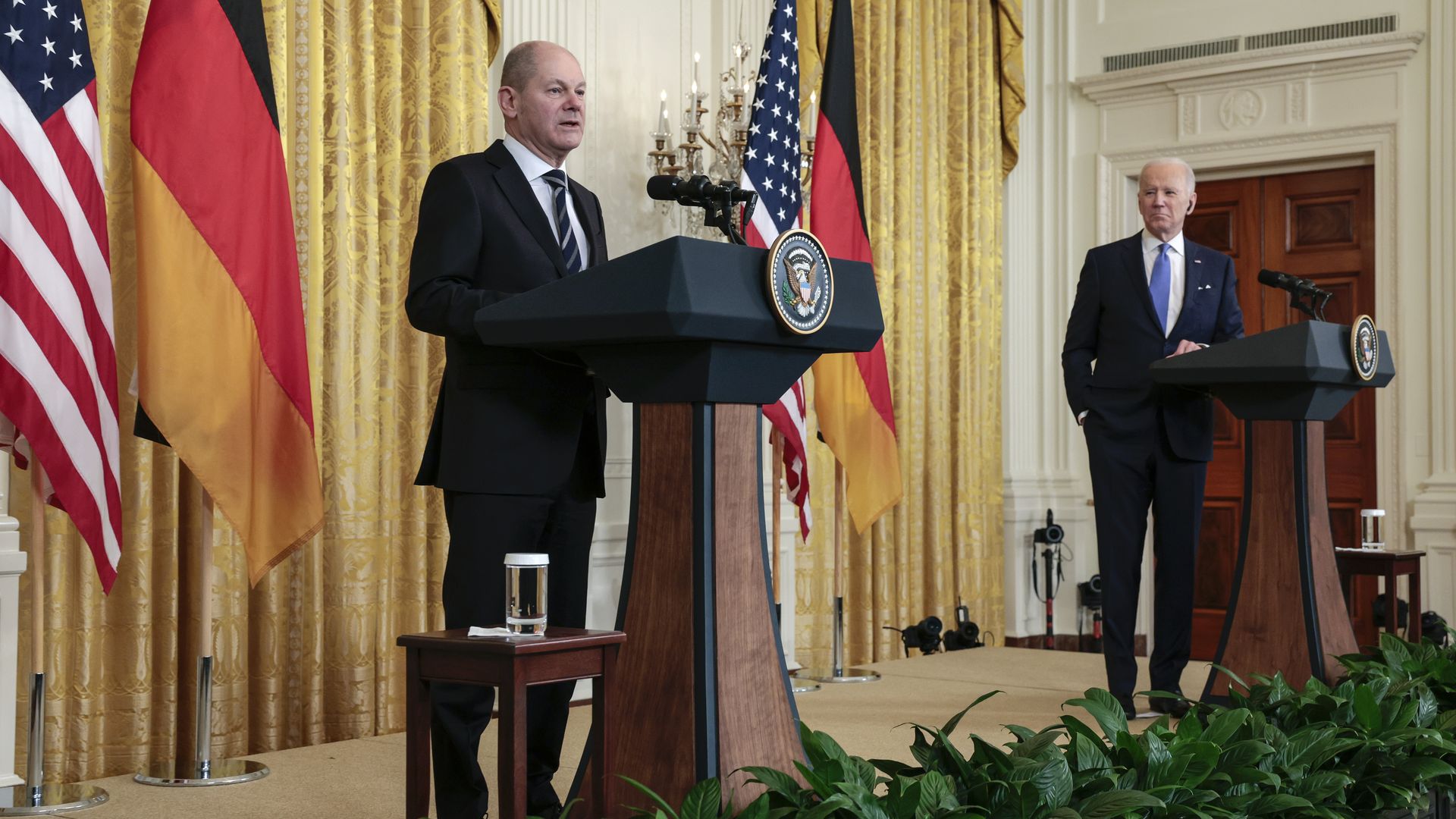 Olaf Scholz delivers remarks alongside Joe Biden during a joint news conference in the White House in Feb. 2022. Photo: Anna Moneymaker/Getty Images
German Chancellor Olaf Scholz and President Biden are scheduled to meet Friday to discuss the allies' support for Ukraine's ongoing war effort.
Why it matters: This is Scholz's first visit to the White House since the war began and comes shortly after Biden resolidified U.S. commitment to Ukraine on the invasion's one-year mark.
Scholz last visited the White House in February 2022, weeks before the start of the war. At the time, he vowed to be "very, very hard to Russia" and stand up for Ukraine as it faced the threat of a large-scale invasion.
Driving the news: Biden and Scholz are expected to discuss efforts to bolster Ukraine's defenses and transatlantic security, as well as counter Russia's aggression, White House press secretary Karine Jean-Pierre said in a statement last month.
The U.S. and Germany announced in January that they would send battle tanks to Ukraine but so far both Biden and Scholz have opposed Kyiv's calls for fighter jets.
The pair is also expected to discuss "shared challenges posed by China," Jean-Pierre said.
The big picture: Russian President Vladimir Putin appears to be waging a war of attrition as his invasion of Ukraine grinds into its second year, with brutal fighting in the eastern Donbas reason.
The U.S. warned last month that China was considering sending lethal aid to Russia.
Scholz urged China not to send weapons to Russia in an address to the German Bundestag on Thursday, Reuters reported. "My message to Beijing is clear: Use your influence in Moscow to urge the withdrawal of Russian troops," he said.
What we're watching: The U.S. is expected to announce on Friday another aid package for Ukraine, according to Reuters.
Source: Read Full Article