The Italian coastguard has helped a rescue boat funded by British street artist Banksy after the vessel became stranded in the Mediterranean Sea.
The boat was unable to move due to an overcrowded deck after picking up 219 migrants off the Libyan coast since Thursday.
The crew said on Twitter they were close to declaring "a state of emergency" as the already-crowded ship had lent assistance to a boat with 130 migrants and a dead body onboard.
The crew claimed European officials ignored repeated calls for help – but the Italian coastguard has since told Sky News that one of its ships has taken on board 49 "of the most vulnerable" refugees, include 32 women, 13 children and four men.
Used to help migrants in the Mediterranean trying to reach Europe from North Africa, the 31-metre-long motor yacht, which is a former French navy boat, features some of Banksy's trademark work, including a girl in a life vest holding a heart-shaped safety buoy.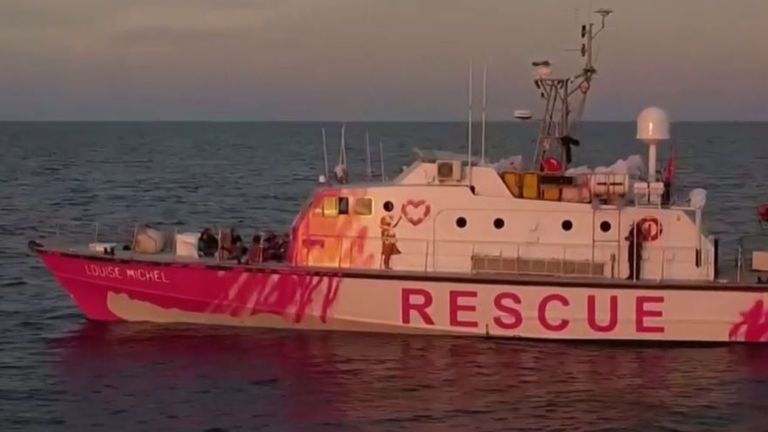 The artist reportedly asked former captain of several NGO rescue boats, Pia Klemp, to use his money to fund "a new boat," which was named Louise Michel after a 19th-century female French anarchist and teacher.
On Friday morning, the crew posted on the boat's official Twitter page that they had rescued 89 people, including 14 women and four children, and were seeking a place of safety for them to disembark.
That evening, it said it lent assistance to another overcrowded boat, which was filling with water, had a dead body on board and many more suffering fuel burns.
"Louise Michel just responded to a mayday relay by #Moonbird aircraft for a rubber boat in distress that had no movement & was taking in water," the tweet read.
"Louise Michel proceeded at full possible speed & handed out life vests to 130 people to secure the situation. Authorities, your turn."
The ship's launch on 18 August was kept secret and news of the mission has only been released following its first rescue.
While it is fairly small, the yacht has a top speed of 27 knots and so is considerably faster than other NGO rescue vessels.
Source: Read Full Article