PALO ALTO, Calif. — Start-up air taxi developer Archer Aviation has unveiled its prototype four-seat electric aircraft. 
Midnight, as the electric vertical takeoff and landing, or eVTOL, craft is called, will fly up to 150 mph and as far as 60 miles, the company says. But Midnight will be optimized for missions of around 20 miles, with recharges from flights of that length taking approximately 10 minutes.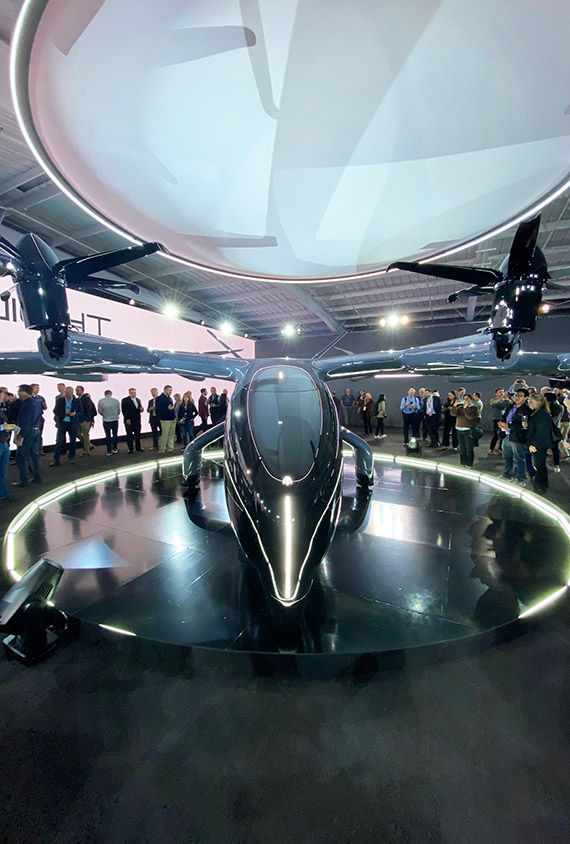 "We're not trying to build the longest flying or fastest flying vehicle," Archer CEO Adam Goldstein said at a flying demonstration of Archer's two-seat testing craft, Maker, several hours before the unveiling. "We are trying to build a vehicle that can get to market." 
United Airlines, which has entered into an agreement to purchase as many as 200 Archer Midnights, plans to use the craft to ferry customers quickly from densely populated urban areas to airports. Last week, United and Archer announced that their first shared route will connect lower Manhattan with Newark, delivering commuters to the airport in less than 10 minutes. Archer is targeting late 2024 for certification of the air taxi, and United hopes to begin the commuter service in 2025. The companies plan to announce additional routes soon. 
Related: A new vertical for airlines
Speaking at the test flight event Wednesday morning, Archer COO Tom Muniz confidently predicted that air taxis in general, and Archer's technology in specific, will "change the way people move and the way people live."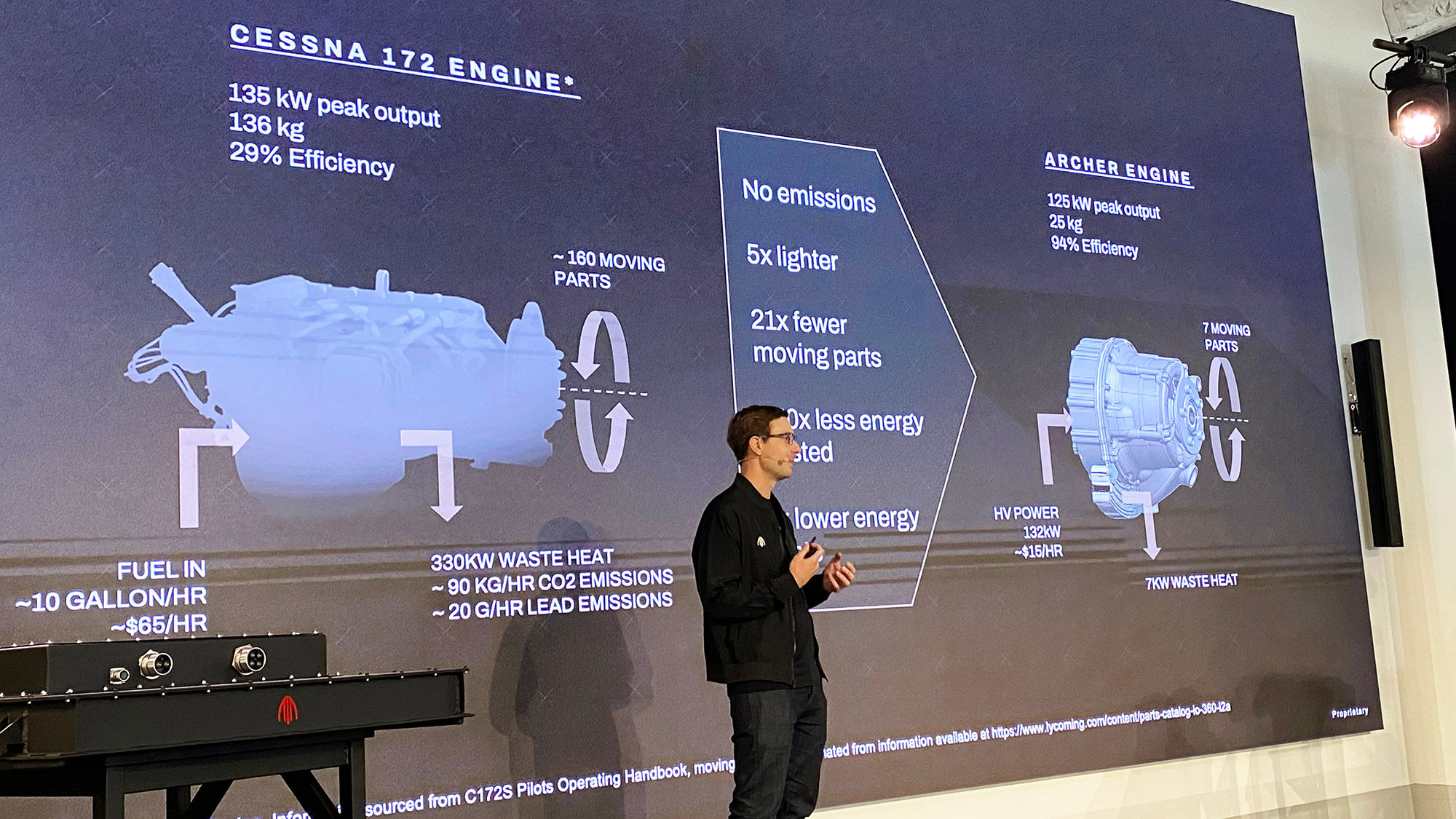 Midnight has been designed with a lean body, but a wingspan of nearly 50 feet to provide stability. The craft's 12 engines include six in the rear that are only to be used to provide lift during takeoff. 
Other players in the sector
Archer is among several companies regarded as leaders in the race toward electric air taxi certification. Others include California-based Joby, which has backing from Delta Air Lines, the U.K.'s Vertical Aerospace, which has backing from American and Virgin Atlantic, and Germany's Lilium. Embraer backed Eve Air Mobility is also developing an electric air taxi and has won backing from the two largest U.S. regional airlines, Sky West and Republic. 
Goldstein said that Midnight has been designed since day one with a focus on finding the straightest line toward commercialization. That's why it's geared specifically toward short missions of approximately 20 miles in urban spaces. 
New York is an obvious target market. 
United's plans for vertiports
At United, Mike Leskinen, who head's the airline's venture capital arm, said the carrier envisions having up to 50 vertiports in the New York-area alone eventually. 
United foresees charging approximately $100 per seat for the aerial taxi rides initially, with the price lowering as the service is scaled up. 
Aside from New York, Goldstein called out Los Angeles as a model market, where he said more than 5 million people spend more than one hour per day going 20 miles. 
Goldstein also said a simple engine design and safety redundancy on every part of the Midnight craft should speed the company's path to FAA certification.
Goldstein projects that Archer will produce hundreds of aircraft per year by 2028 and then scale into the thousands annually after that. Along with airport runs, target markets during early commercialization include existing replacing helicopter services and scheduled point-to-point routes in targeted cities. 
The company plans to manufacture the Midnight at a plant in Covington, Ga. Midnight test flights are targeted to begin early next year.
Source: Read Full Article