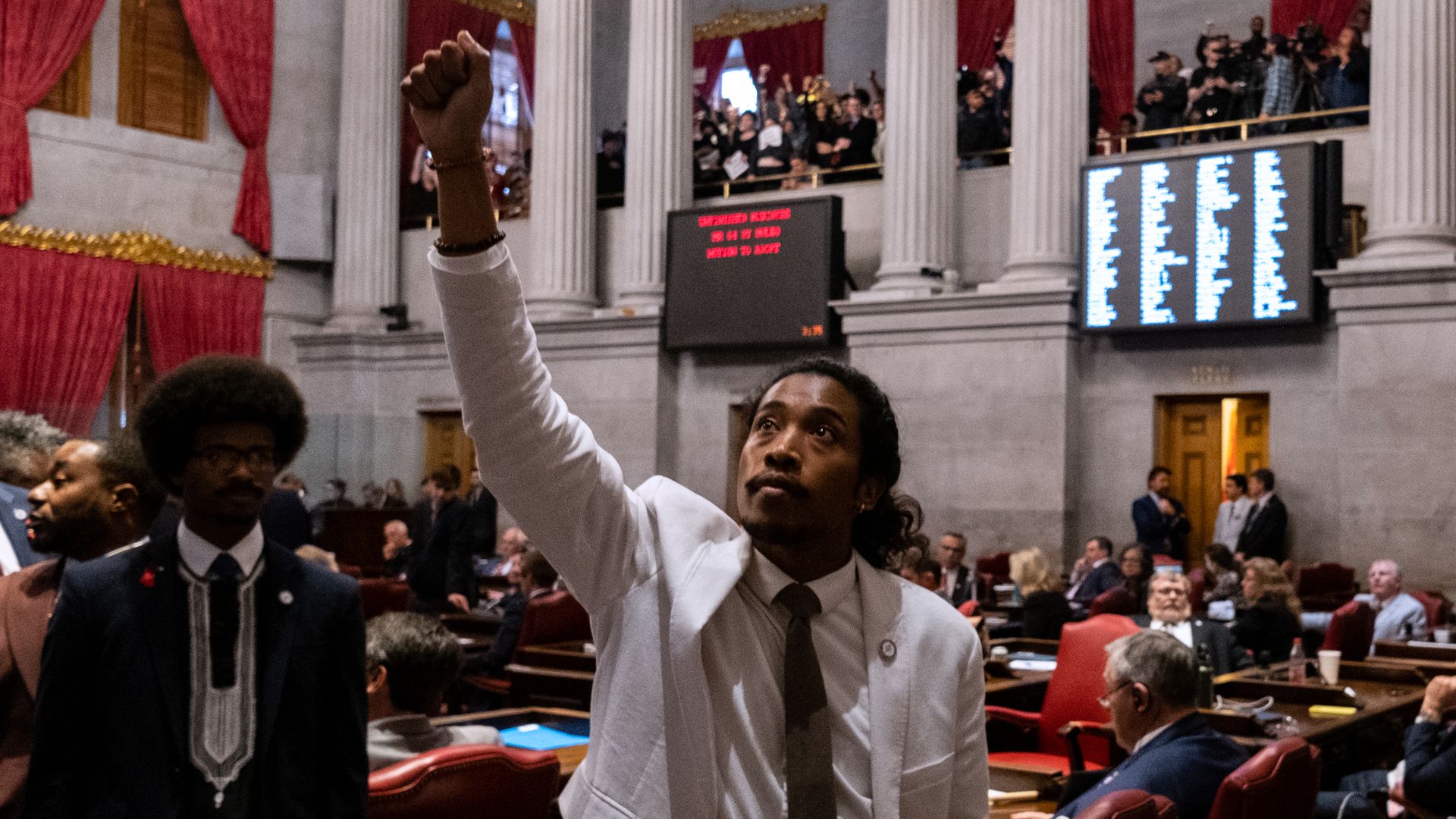 Tennessee State Rep. Justin Jones last week during a vote on his expulsion. Photo: Seth Herald/Getty Images
Four days after Tennessee House Republicans expelled Democratic lawmaker Justin Jones for participating in a gun control protest, Nashville's Metro Council voted unanimously to send him back to his old seat.
Why it matters: Jones has emerged as a national figure at the center of passionate debates over gun violence, racial bias and democratic norms. Leaders from Nashville Mayor John Cooper to President Biden said Jones' expulsion wrongly subverted the will of the voters who elected him.
Nashville's council agreed with a 36-0 vote. They acted quickly to reinstate him as the District 52 representative — many had said their urgency was informed by overwhelming outrage among their constituents.
Driving the news: Cooper asked the council to give the voters of District 52 "their voice back."
Council member Delishia Porterfield, Jones' one-time opponent who lost against him in the Democratic primary last year, stood Monday to urge her colleagues to support him now.
"The people made a choice and it was the right choice," Porterfield said.
Jones was reinstated and the meeting was over in a matter of minutes.
Flashback: Jones and two of his colleagues, Reps. Justin Pearson and Gloria Johnson, marched to the House podium on March 30 to lead chants calling for gun reforms following the mass shooting at The Covenant School that killed six people, including three 9-year-olds. The demonstration briefly sidelined the House agenda.
House Speaker Cameron Sexton and other Republican leaders condemned their actions, saying they had violated House rules and decorum. The trio, also known as the Tennessee Three, lost their committee assignments, and their access to legislative facilities was limited.
Republicans pushed for the severe and rare move of expelling the lawmakers. Jones and Pearson were ousted on April 6, while Johnson avoided expulsion by one vote.
What's next: The Shelby County Commission is meeting Wednesday to consider reappointing Pearson to his seat representing part of Memphis.
Sexton's spokesperson tells Axios the people appointed by the local boards "will be seated as representatives as the constitution requires."
The local appointments are temporary. Special elections to select permanent replacements will take place later — Jones and Pearson are expected to run.
Source: Read Full Article