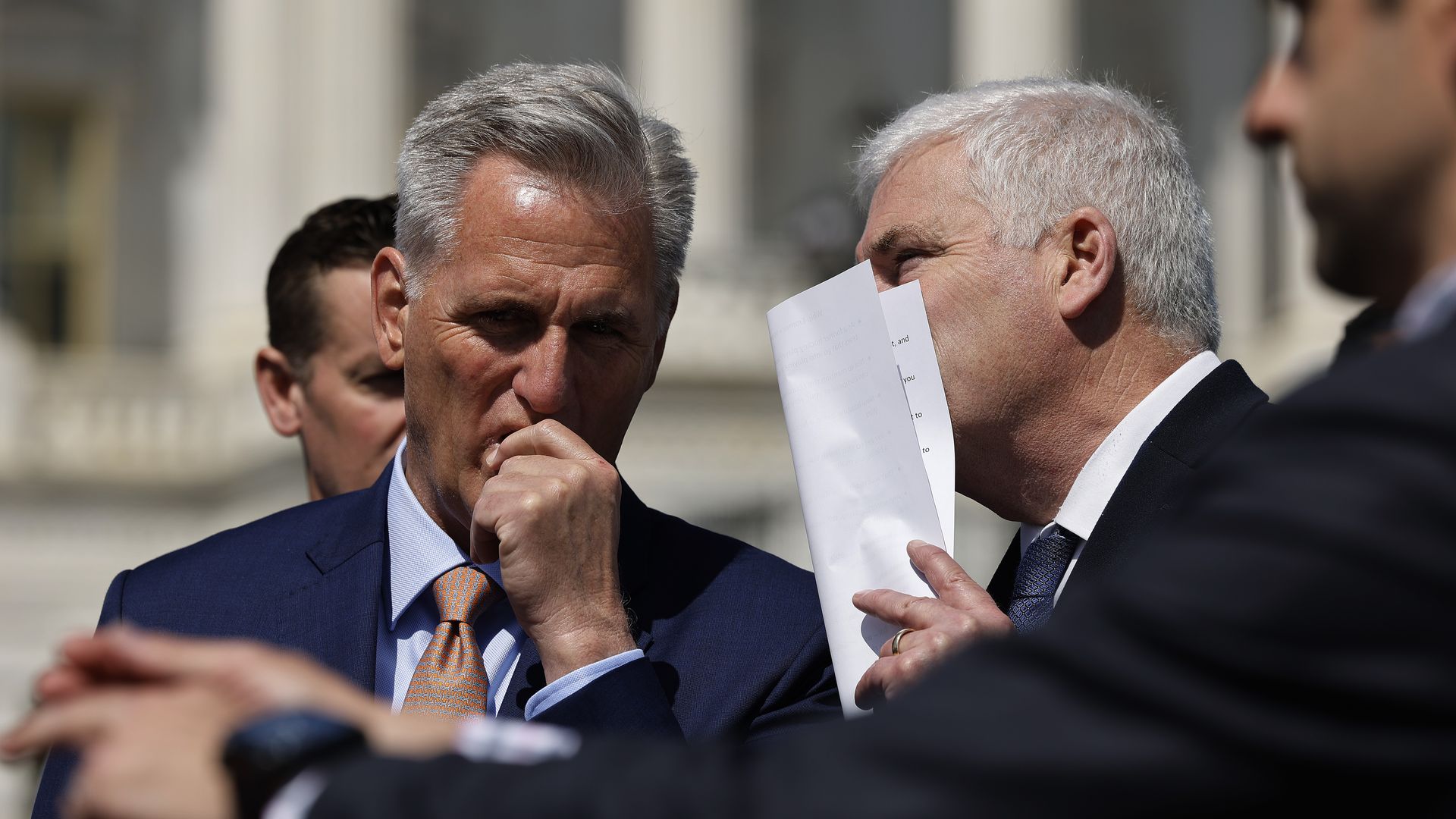 Photo: Chip Somodevilla/Getty Images
House Republicans are feeling a debt ceiling hangover, with senior GOP sources worrying they're significantly short on votes now that members have read the 320-page bill.
Why it matters: "The whip count on this is not good," a senior GOP source told Axios Thursday afternoon.
Much of the skepticism is coming from swing-district Republicans such as Reps. Nancy Mace (R-S.C.) and Tony Gonzales (R-Texas), who have both indicated they are unhappy.
"The Freedom Caucus plan is wagging the conference dog," one House Republican told Axios, referring to the right-wing members who pushed McCarthy hard to include their priorities.
Zoom in: The range of GOP factions that make up the conference have competing complaints that will cause heartburn for leadership — and potentially sink the bill altogether.
Conservatives want deeper cuts and stricter language on work requirements for food stamps.
Moderates are worried about going on the record for spending cuts that are dead on arrival in the Senate. Some are upset about cuts to green energy tax credits and would oppose stricter food stamp language.
East Coast lawmakers representing high-tax states are looking for a way to leverage the bill to expand the state and local tax (SALT) deduction.
Midwestern lawmakers sounded the alarm over cuts the bill would make to ethanol and biodiesel subsidies, which could have a significant impact on rural districts.
Between the lines: Multiple House Republicans said they think leadership can revise the bill to get closer to the 218 votes needed for passage. But that presents its own problems.
In addition to potentially alienating the members who have already signed on, cracking open the bill for revisions could lead to a flood of demands — and anger the Republicans who aren't accommodated.
As of now, GOP leadership doesn't intend to change the bill text, CNN reports. Rep. Garret Graves (R-La.), a McCarthy ally tasked with leading negotiations, said leadership will instead seek to "better explain a few of the text provisions."
Zoom out: House Speaker Kevin McCarthy and other GOP leaders are selling the idea that passing any bill will give them leverage to force Democrats to come to the negotiating table.
"I think we're in very good shape, we just rolled it out yesterday," McCarthy told reporters on Thursday.
Some House Democrats welcome negotiations, with several calling on President Biden to sit down with McCarthy.
"They've got to do it soon," Rep. Debbie Dingell (D-Mich.) told Politico.
And some GOP moderates think Democrats can help them in the other direction, forcing conservatives to compromise on SALT.
"We think that on the next round, when there's a bipartisan effort, that probably doesn't include the Freedom Caucus folks … that's when we can shoehorn SALT through," one House Republican told Axios.
Source: Read Full Article