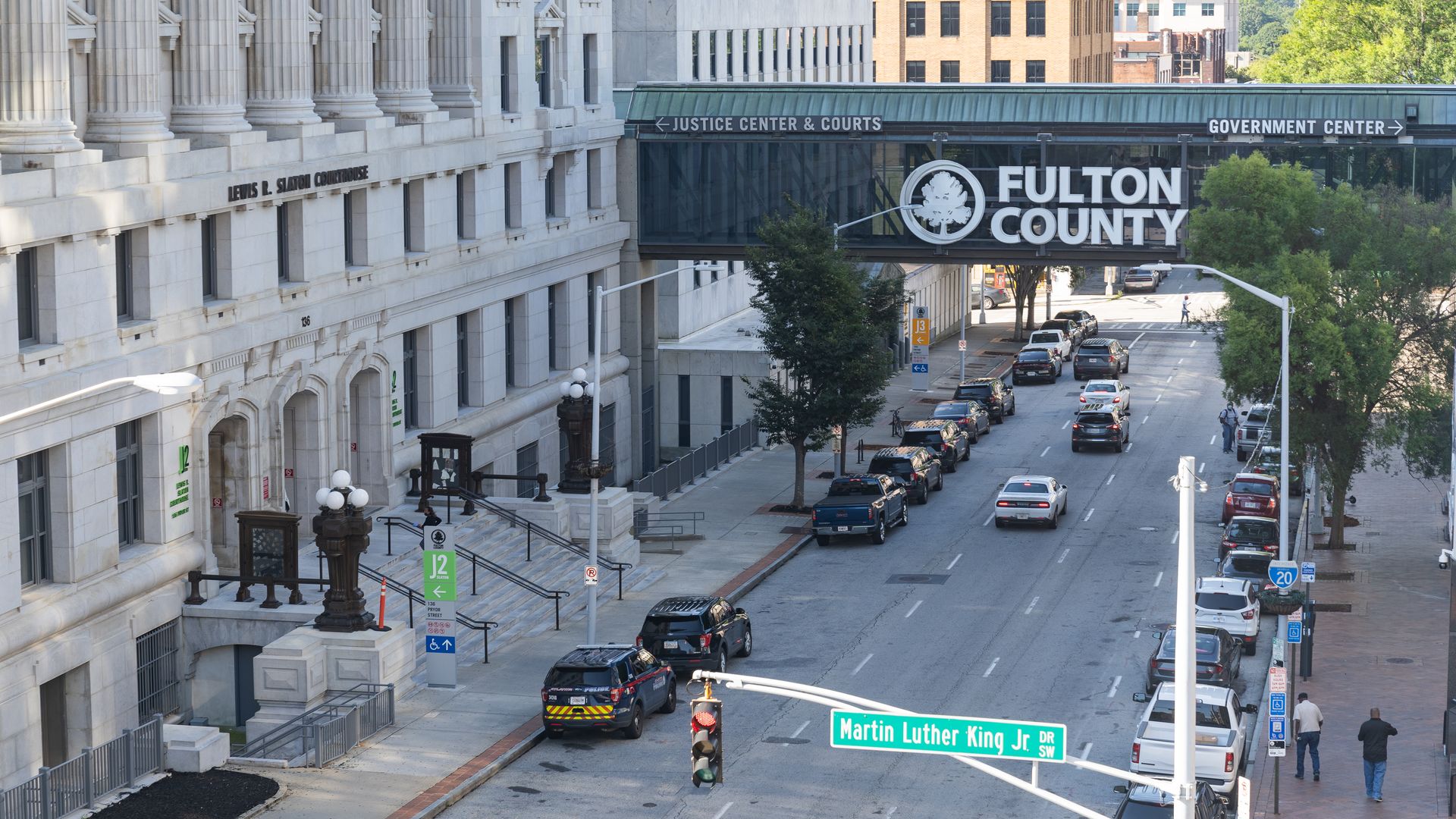 The Fulton County Superior Court building in which a two years-long probe into the 2020 election has been ongoing. Photo: Megan Varner/Getty Images
The Georgia prosecutor overseeing a 2020 election probe had offered immunity to some of the false pro-Trump electors implicated in her investigation — but says their lawyer didn't relay the message.
Driving the news: The developments revealed in a court filing Tuesdayprompted Fulton County District Attorney Fani Willis to ask a judge to disqualify the lawyer jointly representing most of the electors, Kimberly Bourroughs Debrow.
Willis wrote Debrow's representation of the electors has created an "impracticable and ethical mess" and is "rife with serious ethical problems."
Some of those electors recently accused one another of crimes, per the filing, which reveals recent elector interviews with prosecutors.
Willis argues Debrow's ability to represent electors has been undermined and wants her disqualified.
The big picture: The high-stakes probe in Georgia, one of several battleground states where pro-Trump groups organized "alternate elector" schemes after he lost the election, is one of several the former president is facing.
Between the lines: Lawyers on both sides of the investigation have sought to undercut each other in the last two years.
Last month Trump attorneys requested Willis herself be disqualified from the matter and challenged the constitutionality of the entire investigation.
The DA is expected to file a response this month.
Willis was last year separately disqualified from investigating one elector — Lt. Gov. Burt Jones — for a political conflict of interest.
Catch up quick: Debrow and co-counsel Holly Pierson used to jointly represent 11 of the electors, which Willis challenged last fall.
Judge Robert McBurney ruled they could no longer do so, noting Georgia GOP Chair David Shafer, a leading Trump defender in 2020, was "differently situated."
Pierson became Shafer's lawyer, and Debrow took on the ten others — a group that includes party loyalists and officials.
Debrow did not immediately respond to a request for comment.
In a statement, Pierson told Axios the allegations "are entirely false" and said the court already has proof of it.
"Sadly, the DA's office continues to seem more interested in media attention, trampling on the constitutional rights of innocent citizens, and recklessly defaming its perceived opponents than in the facts, the law, or the truth," she said.
Of note: Pierson and Debrow are both being compensated by the Georgia Republican Party, federal campaign finance filings show.
What we're watching: Willis has not yet publicized any charging decisions in the broad investigation whose targets have included former Trump lawyer Rudy Giuliani and Sen. Lindsey Graham (R-S.C.).
Source: Read Full Article