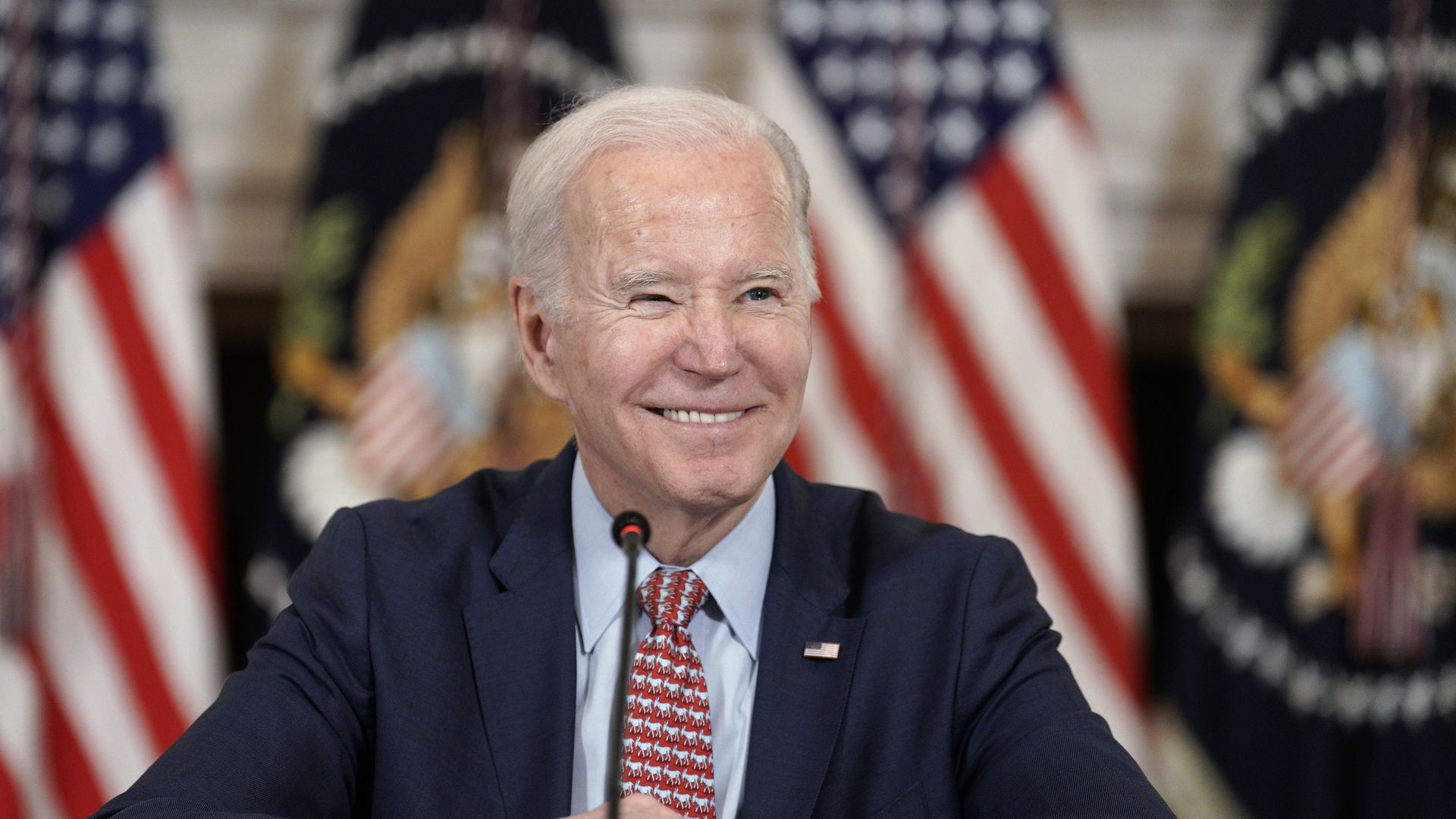 Photo: Yuri Gripas/Abaca/Bloomberg via Getty Images
Democrats announced Tuesday they will host their 2024 convention in Chicago, after seriously considering Atlanta and New York City, elevating the Midwest as a bedrock of their party.
Why it matters: President Biden faced pressure from Democrats in all three cities, but those in Chicago argued that picking a right-to-work state like Georgia would create major tensions with labor unions and white-working class voters just two months before the election.
Democrats hosted their 2020 convention in Milwaukee, Wisconsin, at the International Brotherhood of Electrical Workers' urging.
This is the first normal convention since Democrats went virtual in 2020 because of the pandemic, and the first time hosting in Chicago since 1996 — when the party nominated Bill Clinton for president and Al Gore for vice president.
Driving the news: The Democratic National Committee decision also comes the week after Brandon Johnson, a progressive Democrat, won the Chicago mayoral race after a contentious battle over how the party should handle crime in big cities.
President Biden's relationship with Illinois Gov. J.B. Pritzker, who's considered a political and financial leader within the party, fortifies the decision to host there.
The backdrop: Democratic leaders from each city pressed DNC members for months and focused their pitches on how their respective regions would impact not just nominating, but electing the next president.
The last time labor felt rebuffed by a Democratic president's convention site selection, it boycotted and redirected money and time to a different event.
"It was a slap in the face" when Democrats selected right-to-work state North Carolina in 2012, Lonnie Stephenson, former president of the IBEW, told Axios. "Normally, we give financial support and we didn't that year."
The bottom line: Democrats are clear that they believe choosing Chicago will help build a winning coalition in 2024, and hope to maintain support in the Midwestern "blue wall" states of Illinois, Michigan, Wisconsin and Minnesota.
It gives them an opportunity to tout the White House's economic agenda and infrastructure successes, and re-focus on manufacturing as a way to appeal to middle-class voters.
Source: Read Full Article