Pick the right large panel van, and you'll have a machine that can do all sorts of jobs. We name our favourites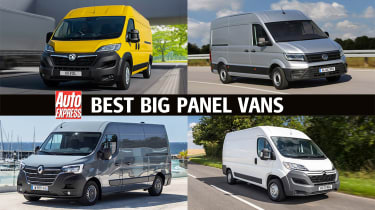 If you're looking for the best large panel van for your own use, or an entire fleet for your business, it's a safe bet that you're looking for plentiful cargo volume, versatility and top reliability. No matter what your specific requirements may be, there will be a van to suit, with a huge range of body styles available, and the option of chassis cabs for a bespoke solution. There's very little these vans cannot do, all while being accessible to drivers holding a standard car driving licence.
While diesel engines are still the most common in the big van sector, there's now an increasing number of electric vans available for those looking for a zero-emissions vehicle. Many drivers will find these electric versions even easier and more comfortable to drive than their diesel counterparts, too, because they're automatic and move in relative silence. Even better, the latest big vans are packed with technology, some featuring the kind of kit you'd usually find in cars, as well as the latest telematics tech, so operators can get the most out of busy fleets.
Best used vans 2022
The majority of large vans are offered with various body lengths (wheelbases) and roof heights, while chassis cab variants in different lengths offer a wide range of conversion options to buyers. If you're going down the conversion route, some are available directly from the factory, but there are also plenty of approved companies who can build a vehicle to your exact requirements.
In addition, there are single and twin-wheel rear axle options available for carrying the heaviest payloads, front-wheel drive to maximise payload volume, and even 4×4 vans with a raised ride height for more rugged work.
Multi-seat crew van and crew cab variants are also on offer, as are tipper and pick-up versions, while multi-seat minibus versions cater for the private hire market and schools. Conversions also allow you to fit out the interior of a panel van however you want – including adding racking and other useful features. The latest large vans are prepped to an industry standard so they're ready to be kitted out from the factory.
Unlike some mid-sized models, which can be almost car-like to drive, larger panel vans still tend to deliver a more traditional van driving experience. Although the driving experience hasn't changed too much, technology has improved greatly to improve safety and convenience, reducing fatigue. While most of this kit is still optional, lane departure, adaptive cruise control, blind spot warning and rear traffic alert can all help with manoeuvring these big machines, and this will complement standard kit such as large wing mirrors with wide-angle glass, and of course the high driving position that these vans offer.
Can I drive a van? Van driving licences explained
It's worth noting that the biggest large diesel vans don't necessarily have the biggest payloads. These models need to have a gross weight that doesn't exceed 3.5 tonnes, otherwise they're no longer classed as light commercial vehicles, and you can't drive them on a standard car licence. If payload rather than cargo volume is important to you, it could be worthwhile looking at a slightly smaller van so you don't break the limit.
Check out our list below to see our favourite big vans, and then click through for the full Auto Express review of each of the models listed…
Best big panel vans 2022
Fiat Ducato
Mercedes Sprinter
MAN TGE
Volkswagen Crafter
Ford Transit
Renault Master/Nissan NV400
Iveco Daily
Citroen Relay/Peugeot Boxer/Vauxhall Movano
Maxus Deliver 9
1. Fiat Ducato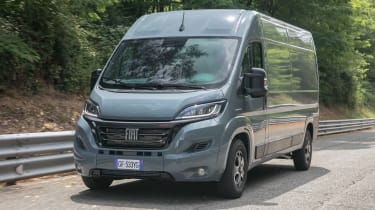 If the Fiat Ducato looks familiar, that's because it shares a lot of its tech and construction with the Citroen Relay/Peugeot Boxer duo. The big difference, though, is that Fiat uses its own engines.
There's a 2.3 Multijet unit in 120, 140, 160 or 180 guises. Not only that, but the 140 version also comes with an auto box to make life easier. There's even the all-electric e-Ducato available, should you need one.
One thing that doesn't change over the PSA models is the cargo volumes that the Ducato can carry. There's a maximum cargo volume of up to 17 cubic metres, while payloads are available up to 2.2 tonnes.
As well as the panel van, there's a spacious crew van variant and a dropside or tipper, which comes in either single or double cab forms. Whichever version you choose, the Fiat can be had with a traction control system that can compensate for off-road driving, while the stability control automatically adjusts according to the amount of payload and its distribution in the load area.
2. Mercedes Sprinter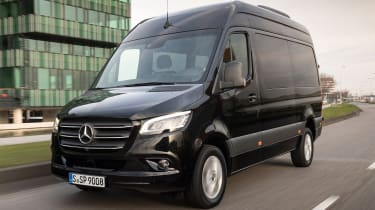 The Sprinter is our favourite large van. Why? Because it offers all of the payload, cargo volume and configurations you could possibly need from a large van, while it also offers the latest tech from the Mercedes car range.
The Sprinter was the second model from Mercedes to receive the MBUX infotainment system (after the A-Class), and the van's connectivity means it's easy for fleet operators to monitor and track their vehicles via dedicated software. Throw in the latest safety kit and highlights such as blind spot monitoring, adaptive cruise control and lane keeping, and the Sprinter is a safe place to be. Go for a high-spec version, and it's plush, too.
As before there are a variety of lengths and roof heights on offer, and this Sprinter is the first one to be offered with a more efficient front-wheel drive layout. Diesel power is standard across the range, while the eSprinter offers electric drive for urban delivery firms. Mercedes has even revealed a hydrogen-powered campervan version as a vision of the future.
3. MAN TGE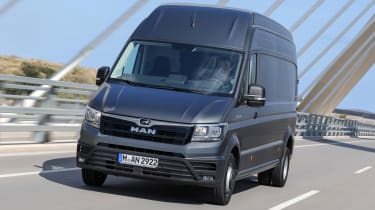 If the MAN TGE looks familiar, it should, because aside from the MAN badges, it's essentially the VW Crafter. You see, MAN is part of the VW Group, and while the maker is famous for its trucks, it has added the TGE to the line-up to cater for fleet truck users who need something a little smaller to bolster their fleet.
To say that the TGE is the smallest model in the MAN range seems crazy when the Crafter is the largest one in the VW Commercial Vehicles line-up. But when your fleet comprises 18 and 44-tonne lorries, then that's what it is. It benefits from the same range of tech as the Crafter, and there are the same variety of van sizes on offer, as well as Crew Cab Pickup and Chassis Cab versions so you can tailor your own bodywork to your needs.
The Crafter's safety kit is carried over intact, too. That means hands-free trailer parking assist is available, as well as adaptive cruise control, lane keeping with steering assist and blind spot detection, while crosswind assist is part of the stability control system.
4. Volkswagen Crafter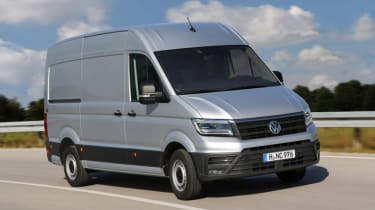 The VW Crafter takes the formula of the mid-sized T6.1 Transporter and super-sizes it. There's the same level of quality inside, and like the Transporter it uses the same tech you'll find in the VW passenger car range. That means adaptive cruise control and lane assist are on offer, while self-parking including trailer assist is also available.
The Crafter is surprisingly car-like to drive, too. It feels nimble and handles well for such a large van, while still offering the high driving position and clear view of the road ahead that these machines are known for. You can even specify a truck-style sprung seat for greater long-distance comfort.
Like the Sprinter, there are diesel engines offered to make light work of the heaviest payloads, while different van lengths and roof heights are offered. There are Crew Cab pickup and tipper variants, too, while the Crafter-based VW Grand California is the biggest off-the-shelf motorhome you can buy.
5. Ford Transit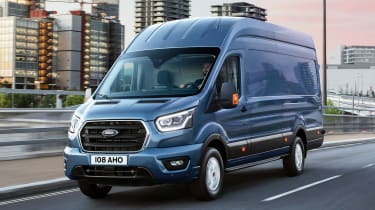 With the latest Transit, Ford divided up the range so that the largest model is called Transit, with the Transit Custom catering for the mid-sized sector. That has allowed Ford to concentrate on producing a large van that's perfect for work use, while constant updates have helped to keep the Transit fresh.
The Transit benefits from Ford's car tech, with the introduction of SYNC3 voice-controlled touchscreen sat-nav on top-spec versions, while the latest EcoBlue diesel is far more efficient than the older TDCi diesel. That means you'll go further on a tankful of diesel, without compromising on payload. Add the new 10-speed auto gearbox, and this offers efficiency and pulling power in equal measure.
Taking the first step towards electrification and as an effort to increase overall efficiency, Ford has also introduced the option of a 2.0-litre EcoBlue mild-hybrid diesel drivetrain to the Transit. The system uses an integrated starter/generator to recover energy while the vehicle is coasting and stores it in a 48-volt lithium-ion battery. This energy is then used to support the engine and save fuel.
As before, there are panel van, crew cab and tipper versions of the Transit, while the passenger carrying version makes an excellent minibus. And if you have a specific need in mind from your Transit, then the chassis cab version is available for conversion companies to use as a foundation.
Rear-wheel drive is standard on the range, while the Transit 4×4 is able to go further off-road than most potential buyers are likely to need.
6. Renault Master/Nissan NV400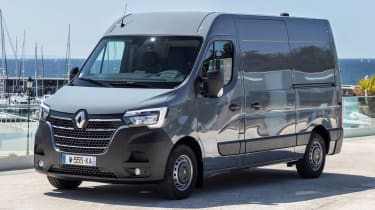 The Renault Master offers a wide range of options in the large van market. With four wheelbase lengths and three roof heights, there's sure to be a panel van to suit your needs, while the Crew Van version offers seating for up to seven inside.
If that's not quite what you're after, there are off-the-shelf conversions, including Loloader, Luton, box van, tipper (including a lightweight aluminium version) and dropside variants, while going for the chassis cab opens up a variety of dedicated conversions from accredited suppliers.
Throw in the option of front or rear-wheel drive, and the Master really does cater for nearly every requirement. That includes electrification, with the Master ZE offering zero emissions driving for urban deliveries. Even better is that nearly all of the diesel Master's conversion options are also offered on the ZE variant.
The most recent update to the Master introduced more car-like touches, and as ever it's a decent place to sit, with that tall driving position delivering a great view out. All of these attributes are shared with the Nissan NV400, which is essentially the same van (bar the electric option), with a five-year warranty where the Master's is three years. Both have a 100,000-mile limit, though.
7. Iveco Daily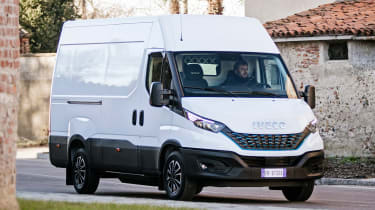 Another large van from a maker more familiar to the truck fraternity, the Iveco Daily is the smallest vehicle that the truck maker builds. And it was given an update in 2019 to make it more efficient without compromising payload weights or volumes.
There's improved safety tech, too, with emergency city braking, adaptive cruise, crosswind control, hill descent and lane assist all making an appearance. These systems are possible due to the addition of electric power steering, which also makes manoeuvring the Daily a breeze on city streets.
The Daily comes with a choice of engines, with the light-duty versions featuring a 2.3-litre diesel, and the heavy-duty vans coming with a 3.0-litre diesel with up to 210bhp. That latter engine is offered in vans that exceed the 3.5-tonne LCV weight limit, so you'll need a CV licence to drive one.
2019's update saw the Daily get a subtly revised look, too, but it's one that's designed to deliver greater efficiency over a radical revamp. The changes under the skin are more significant, and with the addition of the latest connected services, it's a good choice for fleet operators.
8. Citroen Relay/Peugeot Boxer/Vauxhall Movano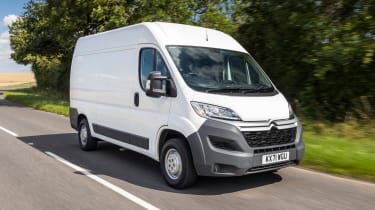 Like the Renault Master and Nissan NV400, the Citroen Relay, Vauxhall Movano and Peugeot Boxer are essentially the same van, but with different badges on the nose. And like its Renault/Nissan counterpart, there's plenty of variety in the range, too.
There are four lengths in three wheelbases and three roof heights on offer, which means cargo volumes range from 8-17 cubic metres, while a payload of up to 1.44 tonnes is available if that's what's important to you.
Like rivals, there are off-the-shelf conversions also offered, with Luton, dropside, tipper, box body and even curtainside versions available direct from dealers. And like rivals, Citroen, Vauxhall and Peugeot offer electric versions of the Relay, Movano and Boxer.
In the cab, it's pretty basic when compared to the very latest large vans, but it's functional and roomy for three across the cab.
Power comes from BlueHDi diesels ranging from 110 to 160 power outputs, and while they're a bit noisy, they get the job done.
9. Maxus Deliver 9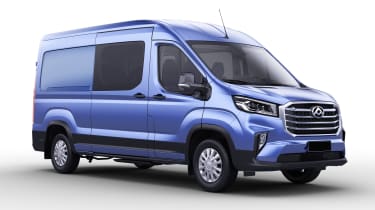 Maxus is the new name for budget Chinese van maker LDV (it started out by building vans using tooling shipped from the UK LDV plant to China), and 2020 sees the company expand its aspirations in the commercial vehicle market. Gone is the LDV-based V80, and in its place is an all-new van called the Deliver 9.
It's certainly a step forward in terms of looks, while the standard 2.0-litre diesel is now an in-house unit that meets current emissions legislation, rather than the ageing VM Motori unit that was found in the V80.
The Deliver 9 panel van comes in three lengths and two roof heights, while Maxus also offers two lengths of chassis cab and a wide variety of conversion options. The diesel engine makes 161bhp and 375Nm of torque, so it'll cope with most demands.
In the cab, the basic V80 dashboard is replaced by a better looking dashboard with more tech than before. There's even a Deliver 9 Luxury model, with kit such as LED headlights, keyless entry, blind spot and lane assist, alloy wheels and smartphone connectivity.
Read more of our best car and van recommendations…
| | |
| --- | --- |
| Best small vans | Best panel vans |
| Best pick-ups | Best medium vans |
| Best company cars | Best 8-seaters |
| Best van deals | Best electric vans |
For a list of the best high roof vans on sale, take a look at our sister site Buyacar…
Source: Read Full Article