Workmanship was nothing to complain about, they were at it by the book and to the point. However, people like us, who pamper their stuff would always find things to dislike.
BHPian NaXal recently shared this with other enthusiasts.
Hello,
As winter is approaching, I have few long drives planned in my calendar. Although my 2017 Aspire TDCi is few months short of its scheduled yearly service but decided to get it done early so that I can have fresh oil / filters for the drive.
This time around, I decided to skip Ford ASC and try my luck with a FNG I knew. I didn't have any major issue, zero complaints with the car, so it was just supposed to be a simple Oil / filter change PMS.
FNG experience: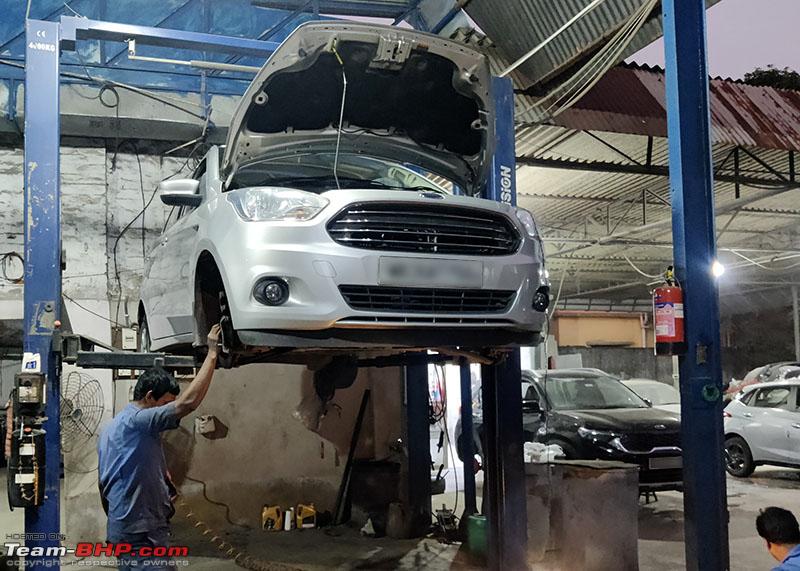 Workmanship was nothing to complain about, they were at it by the book and to the point.
However, people like us, who pamper their stuff would always find things to dislike. Here too, things that were pinching me are like a fan blowing at such angle that little bit of sanding dust from their body shop is ending up in-side my car as they kept the driver side window down.
Secondly those oily hands and fingers!! Although they didn't end up putting a spot but mechanics, who were working on the car were also doing the driver duty of shuttling them around from one bay to another.
I kept wondering, will I ever have some peace?
I kept wondering, will I or anyone ever say no to an extra Rs. 100/- on top of the bill for gloves usage? I guess rather than a discussion, this topic will always be considered as a rant in India.
Spares:
Now this FNG sources their spares directly from Ford Spare Warehouse of Kolkata. So they had asked me to bring the car and they will worry about getting the genuine spares. But they didn't have Ford specific oil with them. They would use A5/B5 spec 5W30 oil of any brand that I would prefer.
But I wanted to use that wired Ford specific oil as mentioned in the manual. 5W30 with WSS-M2C913-D approval.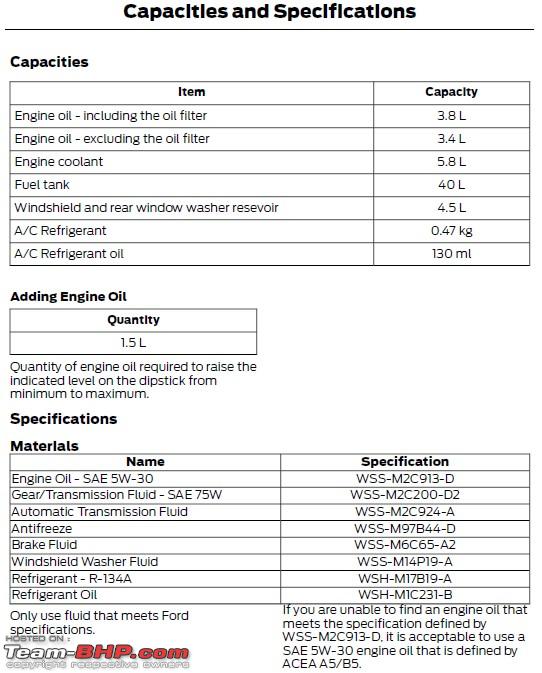 Only thing from any major known brands I can see meeting this requirement is Mobil Super 3000 X1 Formula FE. There are few unknown (to me) brands but mostly sold via some unknown website. For Mobile Super 3000, Amazon was quoting Rs. 2k whereas I got it for Rs. 1500 (including that discount coupon inside).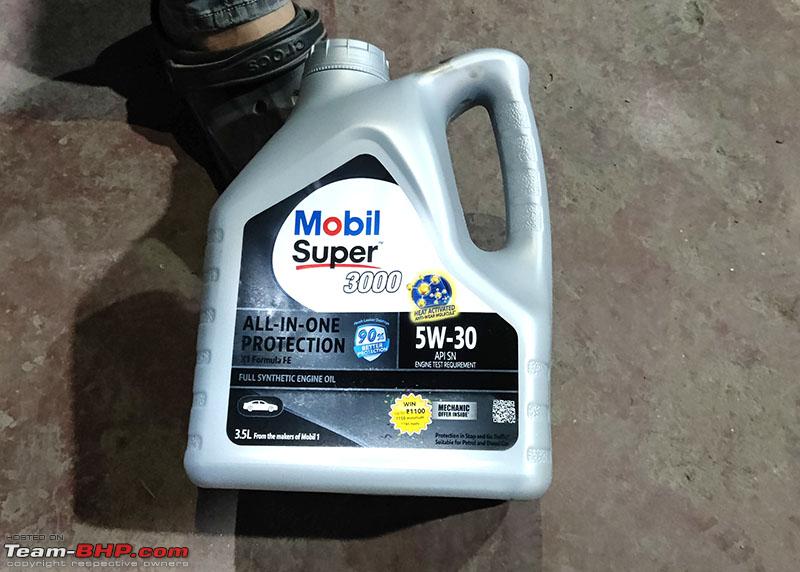 While I was out searching for the oil, decided to visit the Ford Spare Warehouse located near the AirPort side of Jessore Road of Kolkata. Bought the oil filter, gasket, air filter and cabin filter.
Total spares cost:
Oil -> Rs. 1500/-
Oil Filter -> Rs. 148/-
Gasket -> Rs. 43/-
Air Filter -> Rs. 360/- (used to be around 240/-)
A/C Cabin Filter -> Rs. 160/-
I didn't opt for any washing or anything extra, just oil & filter change and checking brake pad condition. So FNG labour Cost came around Rs. 800/-.
Grand Total -> Rs. 3k.
Now there are two issues:
Oil level:
The Ford manual says 3.8L whereas the pack I got is only 3.5L. After the change, kept the car on idle for 5 mins. Allowed it to cool down for couple of minutes and then I checked the level. It seemed ok. Right between min & max of the dip stick.
I wonder, should I buy another pack and add 300ml more? or leave it as it is !!
Brake pads:
Brake pads are worn. May be they would go another few thousand kms but looking at them, I feel I need an immediate change.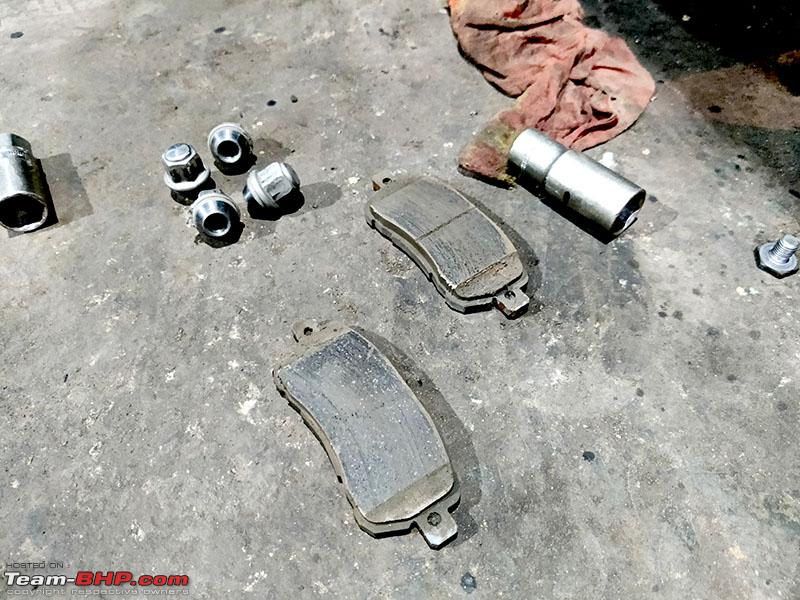 My mistake, I went for this service at 4 PM. By the time they started working on my car & reached to the brakes, it was around 6 PM. They contacted the spare arehouse, but response was negative. Spare was there but no man power at this hour to bill that. Could only be done next morning.
Couldn't leave the car for night, so put things back and kept this work pending for a later date.
Now, the issue is with brake oil change. Ford recommends change of oil along with pads replacement. But the FNG isn't willing to do it. They are to top up only as required while bleeding.
Ford Service Promise shows Rs. 2.6K including all (parts & labour):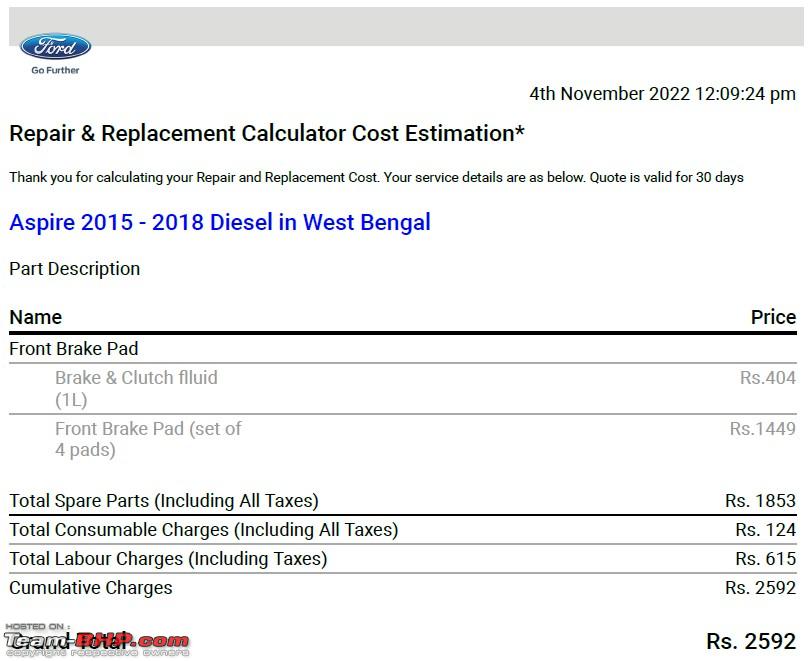 I am little confused, as what to do. Should I follow the FNG route and just change the pads or spend that extra and do it from ASC?
Thanks.
Acronyms:
FNG -> Friendly Neighborhood Garage
ASC -> Authorized Service Center
PMS -> Periodical or Preventive Maintenance Service
Check out BHPian comments for more insights and information
Source: Read Full Article