Over the past year & 5000 km with the Force Gurkha, not only have I been able to have fun, but it also paved the way to make some wonderful friends.
BHPian karthikd21 recently shared this with other enthusiasts.
1 year, 5000 km, unlimited fun
It has been one whole year since the Gurkha arrived in the family. I simply cannot express the change in the quality of life it has brought! I was going through the "Mid-life-Crisis" when I decided out of the blue to purchase the Gurkha impulsively by making a heart-over-the-head decision. I could not have been more right!
In 2014, I drove my Bolero RWD to Mandalpatti in Coorg. For those of you who don't know, it's called the "Mungaru male spot". Bolero made it till the end but, boy, it struggled and, how! That struggle gave birth to the dream of owning an off-roader. Fast forward to 2021 – the dream came true when I bought the used Gurkha 4×4.
It has now been a year with it, and not only have I been able to have fun, but it also paved the way to make some wonderful friends. It's an unwritten rule in off-roading to never go alone and I have come to realize, it's very true. Last year, I have spent experienced numerous trails in Karnataka, some just scenic, while some were brutal. Overall, it has been a great experience learning to off-road, rescue and get rescued, and build friendships that are greater than the sport itself.
Enough of the emotional outburst, let's look at some reviews of the vehicle itself.
Positives
Gurkha is built Tough. It can take any terrain with the stock ground clearance. It gives a feel of driving a tank.
Suspension set-up from the factory is perfect for gobbling up no roads and taking you in comfort to the remote spots with no roads. Even while tackling obstacles, you don't feel a thing!
Engaging 4L makes the beast behave differently. 4L in 2nd gear generates the best balance between power and torque to go up in most of the obstacles.
Differential lockers are a boon given that the articulation in stock form is not that great.
Spare parts are available even for BS3 models given some notice.
Force Customer service at least in Hosur Road is excellent. Since there aren't too many customers, they remember every customer and help out in any situation.
Negatives
Stock radiator fan quality might not be adequate. It broke when I tried water wading once. Yes, there is some learning for me here as I was fast during water wading. However, it doesn't mean the fan is bulletproof. I have had a conversation with a fellow off-roader who is more of a professional off-roader and he confirmed that he has had issues with the fan breaking and in turn damaging the radiator as well. It might have been that the fan was already brittle since it was used for more than 70k kms and I have now replaced it with an OEM fan. However, I am low on confidence even to give it a shot when needed.
While I mentioned that the suspension setup is great from the factory, it's not the same while tackling obstacles. I would have loved to have a bit more articulation so that the tires have traction in some situations.
While 4L is great on traction, 4H only generates enough traction to handle bad roads and mountains. You can't take any obstacles on 4H. In comparison, 4H of Thar seemed better.
4L with first gear begs more power. This is where the engine producing just 82 bhp feels outdated. Tougher inclines definitely need the 2nd gear to be engaged and that means only obstacles that allow build-up of some momentum are best handled by the Gurkha.
Gurkha is Heavy @2.6Tons. This doesn't allow it to make the best use of the torque generated and fails in slush even with MT tires when ridden with not enough momentum. I wished Gurkha was a bit lighter. However, the tubular chassis is built tough to take any abuse. I purchased Gurkha for recreational off-roading and no complaints there.
Time for some pictures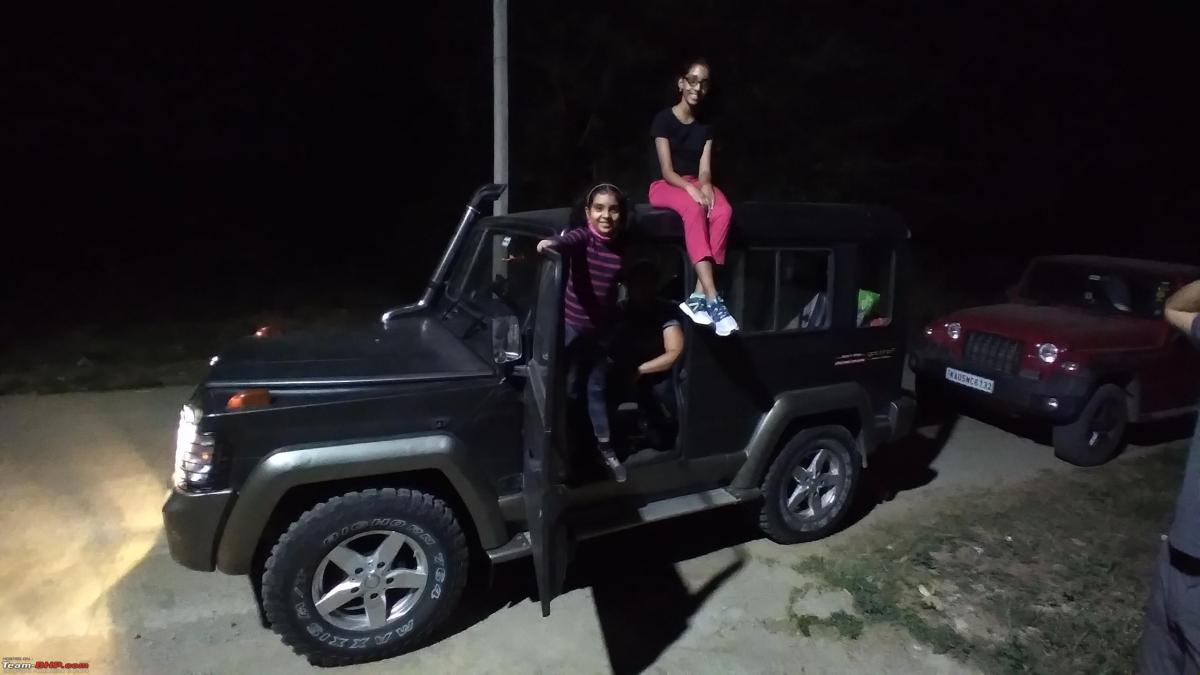 Boy, we love climbing up!
Friends, did I say?
Nature, here we come
Planning and learning to tackle an obstacle
Off-roading at night, check.
Recovery and friends!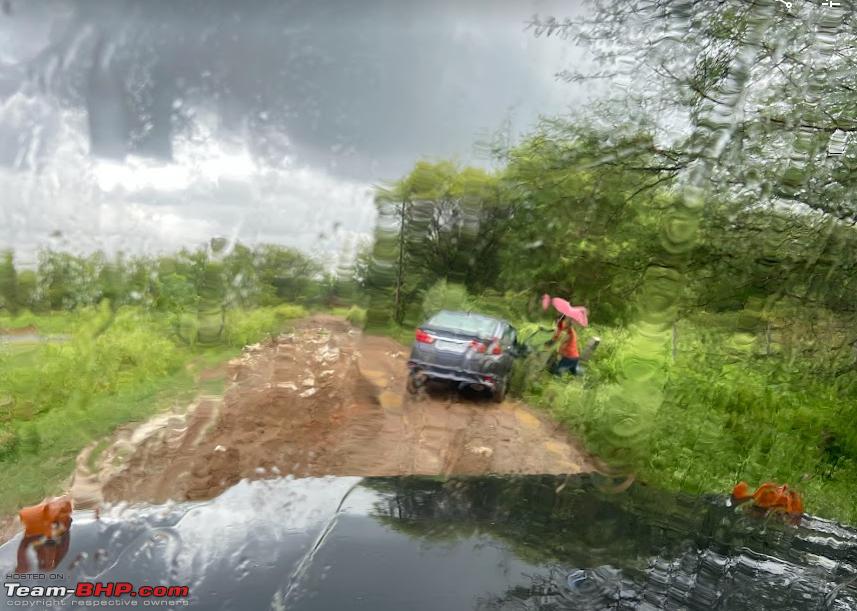 Being a human. Recovered a Honda City from a ditch and helped him get out of the slushy road on the way to an off-road spot.
Friends forever
Did I mention my new set of shoes?
Bad decision, got struck and broke my radiator fan and ended up with a damaged radiator.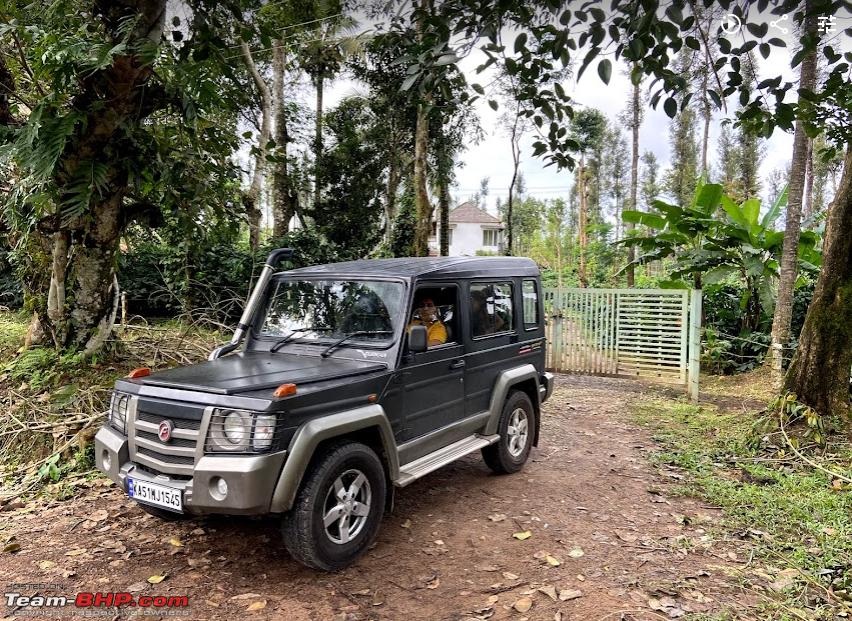 Blending with nature in Malenadu
Am I handsome or what?
Camping, check
Getting all muddy to learn recovery
Rock hill climb at Pavagada
Nicely organized off-roading with Thar_Bengaluru group
Dirty drives Bangalore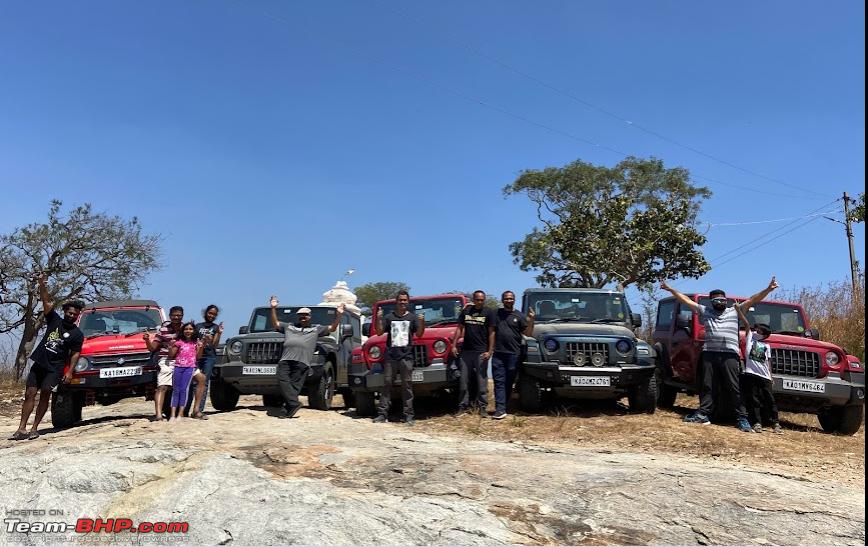 More friendships!
We are family that loves being outside the home and near to the nature
To summarize, Gurkha is able to serve the purpose it was bought for very well and in reasonable comfort. Would I be willing to change it? Not in today's time. I would have loved to buy a Thar in its 2.0 avatar. However, it's not in my budget and won't fit into my budget even if I go through the used vehicle's route for the next few years given the prices for the new Thar are very high. I might consider changing if and when Jimny gets launched with the right price. But, for now, loving Gurkha to the core!
Signing off with a video to celebrate the Anniversary of Gurkha!
Check out BHPian comments for more insights and information.
Source: Read Full Article