Volvo might have axed its estates in the UK, but it's still got one eye on practicality with this new MPV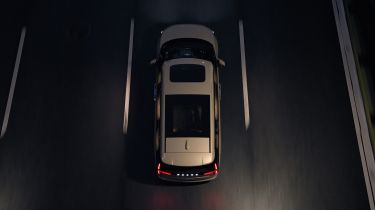 The Volvo estate is no more in the UK market, and we've been starved of people carriers, or 'MPVs', for some time now. But practical non-SUV body styles aren't completely off the agenda, because Volvo looks to be bringing back the MPV with a new electric model called the Volvo EM90.
Described as the brand's first ever fully electric premium MPV – though in reality, it's the company's first MPV full stop – the EM90 is set to be unveiled in full on November 12. There's only one problem: It's unlikely to be coming to the UK.
Instead, the new Volvo will be primarily aimed at the Chinese market, where large people-movers are still big business. Order books there will open on the same day the EM90 is launched, giving customers access to what Volvo describes as "a Scandinavian living room on the move".
Best 7-seat electric cars to buy 2023
The sole teaser image certainly suggests the new Volvo will be a luxury product. Peer through the panoramic glass roof and you can just about see two individual middle-row seats, rather than a bench designed to squeeze in as many kids as possible. The position of the rear door handles alongside the front ones suggests the EM90 will have proper MPV-style sliding doors though, for easy entry and exit.
There's a proper bonnet too, rather than the sloping nose of MPVs of old – perhaps giving just enough room for a small 'frunk', to maximise luggage space. Other styling elements (those we can see, anyway) are straight from the Volvo playbook, right down to the fetching gold paintwork in the teaser image.
Volvo hasn't revealed any technical details yet, but we'd expect it to share at least some of its tech with the new EX90 electric SUV. That potentially means a twin-motor, 402bhp powertrain, and a sizeable 111kWh battery pack, probably good for a mid-300 mile range. Fast charging should feature too – the EX90 manages a 10-80 per cent fill in around half an hour.
So it's a bittersweet one for fans of practical family buses, though if the EM90 did ever come to the UK, then just like the EX90 you'd probably not see much change from £100,000. Perhaps you should hang onto that tired old SEAT Alhambra for just a little while longer.
Searching for a new MPV? These are the best ones that you can buy right now…
Source: Read Full Article