Even in entry-level form, the facelifted Porsche Cayenne is a sharp-handling and beautifully finished SUV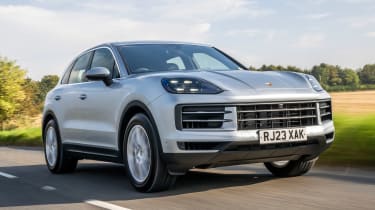 4.0 out of 5
How we review carsBuy used for less at Buyacar
Verdict
Porsche may have heavily updated the Cayenne but it hasn't reinvented it. This is still one of the sharper-handling cars in the class and in this base form at least, there is a slight trade-off between that agility and outright comfort. But it remains a compelling, attractive package, and the revamped, beautifully finished, hi-tech cabin should be enough to give this Cayenne the extended appeal that Porsche and its customers are after.
We're all used to cars getting facelifts – a nip and a tuck, some new headlights, perhaps fresh bumpers, a couple of different colours and some new interior trim. 
But that's not quite the case with the Porsche Cayenne, which has just been overhauled in a bid to extend its life through to, well, the end of his decade – by which point it will have spent several years on sale alongside a pure-electric version.
Here, then, is the updated car – and in its most affordable form. This is the model whose mark-up and potentially ruinous options list has underpinned much of Porsche's astonishing financial results over the past decade. But the Cayenne has to start somewhere, and it's here: a model simply called Cayenne (no S or engine designation) and featuring a 3.0-litre turbocharged V6 petrol motor producing 349bhp and 500Nm of torque. 
More reviews
Car group tests
Audi SQ8 vs Porsche Cayenne Coupe GTS
BMW X5 vs Porsche Cayenne vs Jaguar I-Pace

In-depth reviews

Road tests

New Porsche Cayenne E-Hybrid 2023 facelift review
New Porsche Cayenne Coupe Turbo GT 2021 review
New Porsche Cayenne Coupe facelift prototype review
New Porsche Cayenne Turbo S E-Hybrid Coupe 2021 review
New Porsche Cayenne GTS Coupe 2020 review

That's already a major tweak over the previous base version, which had less power and a 2.9-litre engine instead. And this is the only pure-petrol V6 in the range, now that the Cayenne S has moved across to V8 power. 

It's four-wheel drive, of course, and has an eight-speed automatic gearbox. Porsche claims a 0-62mph time of six seconds – this remains one of the slowest-accelerating models in the company's line-up – and a top speed of 154mph.

It costs £67,400, a modest increase over the previous entry-level edition, although even the metallic paint of the example you see in the pictures here adds nearly £900 to that figure. Even breathing in the near vicinity of the options list could easily take your total north of £70k – but then, for now at least, this is the largest and most practical SUV that Porsche makes.

Cayenne aficionados will be able to tell the difference between pre and post-facelifted editions of the car, although the tweaks are relatively subtle. There are reprofiled headlights, complete with matrix technology across the range, plus a new front bumper and, unusually for a facelift, changes to the metal panels for the bonnet and front wings.

There are plenty of significant tweaks within the Cayenne's imposing frame, too. Porsche has completely overhauled the car's suspension, where new two-valve shock absorbers are claimed to deliver an unparalleled mix of comfort and body control. In the cabin there's a fresh fascia dominated by a pair of displays – a 12.6-inch curved instrument cluster and a central 12.3-inch infotainment screen. You can even have a third information panel in front of the passenger, if you're willing to run the gauntlet that is the options list.




Of course the Cayenne can't match Porsche's sports cars for involvement, but it does have a surprising amount of agility for something this tall and heavy. You feel more connected to what's going on beneath you than in many of this car's obvious rivals, and direct steering and a willingness to quickly change direction mean that the Cayenne does feel smaller than its actual dimensions. 

The trade-off for this fine body control is perhaps a bit more patter and certainly more noise from beneath you – on the steel springs of this entry model, at least. We'd have to try an air-sprung Cayenne on UK roads to see if it manages to isolate you more effectively from road scars and sharper, higher-frequency inputs – particularly since Porsche claims the regular suspension's extra ability has allowed it to tune the optional set-up for greater comfort.

On the whole, though, the Cayenne never crosses the line and becomes uncomfortable; instead it feels every bit the contemporary, combustion engine-powered Porsche SUV that it needs to – still a notch above wannabe-luxury rivals from BMW and Mercedes, with a distinctive sharper edge to its handling.

The cabin experience, meanwhile, puts further distance between the Cayenne and those other brands, with supreme build quality and top-grade materials throughout. The infotainment is slick and easy to use, with crystal-clear graphics, and the physical controls that you're likely to interact with on a regular basis – the stubby gear selector, the indicator and wash/wipe stalks, the air vents – have a terrific solidity to them. 

The Cayenne's overall chassis dimensions haven't changed, of course, so while there's not as much space in the cabin as there is in, say, a Bentley Bentayga, this is still an environment where four adults will be able to travel long distances in comfort. The boot remains a decent size too, with 695 litres of capacity or 1,708 litres if you fold down the second row of seats.

| | |
| --- | --- |
| Model: | Porsche Cayenne |
| Price: | £67,400 |
| Engine: | 3.0-litre turbo V6 petrol |
| Power/torque: | 349bhp/500Nm |
| Transmission: | Eight-speed auto, four-wheel drive |
| 0-62mph: | 6.0 seconds |
| Top speed: | 154mph |
| Economy: | 26.2mpg |
| CO2 emissions: | 246g/km |
| Dimensions (l/w/h): | 4,930/2,194/1,698mm |
| On sale: | Now |

Source: Read Full Article