The new Porsche 911 Carrera T is simply the best model in the 992-generation's range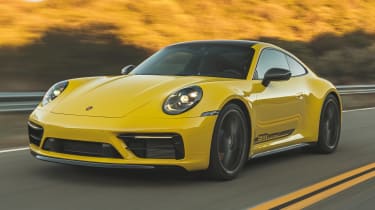 5.0 out of 5
Buy used for less at Buyacar
Verdict
While the regular Carrera models remain some of the best sports cars on sale, with the new Carrera T Porsche has created a 911 that takes the very best of everything the 'conventional' range has to offer – in a combination that, strangely, it doesn't currently allow you to spec up yourself. But how it gets there is really a side story; the result of in-house configurator wizardry is simply the best Carrera model of the entire 992-generation line-up. If you want proof that 'less is more', here it is.
On paper, you might look at the Porsche 911 Carrera T and think the near-£10,000 premium it commands over a base Carrera is a steep one to pay to have Porsche's least-powerful 3.0-litre flat-six engine with a seven-speed manual gearbox, a combination not available with a regular Carrera.
You might also think that for an additional £4,300, you might as well go for the more powerful Carrera S, which is also available with a seven-speed manual gearbox. But this would not only be missing the point of the T, you'd also be missing out on the best 992-generation Carrera model you can buy. It's that good.
New Porsche 911 Dakar takes the icon off-road

The formula the T follows is a simple one. Porsche takes a Carrera and cherry-picks the best bits from its parts store to create a model that would be impossible to replicate yourself, no matter how long you spent on the configurator trying to do so.

The engine is unchanged from the Carrera, developing a hearty 380bhp and feeling every bit as exciting as a consequence. It's an engine that we perhaps didn't give Porsche enough credit for; it never once feels turbocharged and it revs with the free spirit of the naturally aspirated motors of the past. With the manual gearbox it becomes even more special, providing you those moments of unadulterated interaction that only changing gear yourself can bring.

More reviews

Car group tests

BMW M4 Convertible vs Porsche 911 Cabriolet: 2022 twin test review

In-depth reviews

Road tests

New Porsche 911 GT3 RS 2022 review
New Porsche 911 Sport Classic 2022 review
New Porsche 911 GTS 2021 review
New Porsche 911 GT3 Touring Package 2021 review
Porsche 911 GT3 manual 2021 review

Used car tests

Used Porsche 911 (991, 2011-2019) review

Despite shortening the gearlever by 10mm to improve the action, it's still not as slick as the company's six-speed manual, which doesn't fit this engine, and seven ratios is still one gear too many. You can order a PDK gearbox if you wish, but it eradicates the 35kg weight saving that the T has over the regular Carrera.

Of that weight saving, the manual transmission is responsible for the bulk of it; the removal of the rear seats (which can be optioned back in), plus lightweight glass and battery make up the rest.

Those other elements that go into creating the T are equally impressive. It sits on Porsche's PASM sport chassis, which adds active dampers with a 10mm drop in ride height and is combined with the Sport Chrono drive selector on the steering wheel. Porsche Torque Vectoring is also standard, along with a mechanical limited-slip differential. Our test car was equipped with optional rear-axle steering as well.

As a combination, it creates a 911 that's sharper and more involving than its more powerful Carrera S or GTS cousins; further proof that power isn't everything when it comes to sports cars. Having a chassis that's communicative, instinctive and involving is far more important.

Despite the more focused chassis set-up, the T doesn't feel harsh; instead there's a fluid nature to how it rides poor surfaces and manages its mass when you stitch a series of corners together. It has more than enough grip, with its larger 20-inch front and 21-inch rear wheels fitted with Pirelli P Zeros, and gives you confidence to push harder than you would in a Carrera. The rear-axle steering completes the package, allow more adjustment mid-corner when required, and offering a rock-solid level of stability when you stretch the flat six to its red line.

Inside you'll find Porsche Race-Tex material (leather is an option), four-way electric seats and extra black trim around the cockpit. Ergonomically it's hard to fault, as is the case for all 911s. And within just a few miles you feel directly connected to the car, something that can take a lot longer in other Carrera models.

If this all sounds rather gushing, it's because the Carrera T goes beyond being an addition to the 911 line-up and is, in our eyes, the best version that you can buy this side of a GT3.

| | |
| --- | --- |
| Model: | Porsche 911 Carrera T |
| Price: | £98,500 |
| Engine: | 3.0-litre 6cyl turbo petrol |
| Power/torque: | 380bhp/450Nm |
| Transmission: | Seven-speed manual, rear-wheel drive |
| 0-62mph: | 4.5 seconds |
| Top speed: | 181mph |
| Economy: | 27.4mpg |
| CO2: | 217g/km |
| On sale: | Now |

Source: Read Full Article