Audi has saved the best for last – the new R8 V10 GT RWD is a stunning machine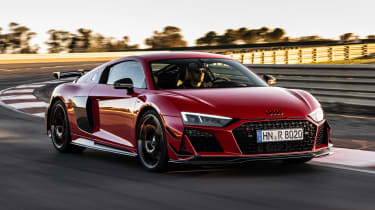 5.0 out of 5
Buy used for less at Buyacar
Verdict
Audi has saved the best until last for the R8. An already focussed performance car becomes quicker than ever, yet both the physical and electronic chassis tweaks have made it even more engaging without compromising the huge enjoyment Audi's supercar is known for. To cap it all off you get one of the great engine noises of all time. It's a very special machine indeed.
For a brand that became famous for its legendary four-wheel drive systems, releasing "the most powerful rear-wheel drive car we've ever made" isn't something that Audi gets to do very often. But this is a very special Audi: the R8 GT RWD is the most extreme road-going version of its supercar yet. 
It can be seen as something of a final bow for the second generation of Audi's mid-engined coupe. Just 333 examples will be built, and only 15 will come to the UK at roughly £200,000 each. In other words, this will be a very exclusive swansong for Audi's halo model.
Best supercars 2022

And a special one. Audi has looked back to previous R8 highlights for inspiration in many areas, but especially the dramatic styling. The first-gen R8 GT featured downforce-boosting canards on the outer edges of its front bumpers, a side intake finished in carbon fibre, and a large rear wing. 

More reviews

Car group tests

Porsche 911 vs Audi R8
Audi R8 RWS vs Porsche 911 GT3

In-depth reviews

Road tests

New Audi R8 Performance RWD Edition 2022 review
New Audi R8 2019 review
New Audi e-tron Vision Gran Turismo review
New Audi R8 RWS 2018 review

Used car tests

You'll find all of these on the new model too, though the number of canards has doubled, and the wing has become even more extreme. It's now attached by "swan neck" mounts which connect to the top of the main plane (it's more efficient this way, as it keeps the surface of the underside, the part which does the most work, cleaner). You might say that less extreme R8s look prettier without the aero kit, but the GT3-racer-for-the-road look doesn't half look exciting. 

To match the first R8 GT, you can choose Suzuka Grey exterior paint, while the homage continues within the cabin with a black and red theme – including the red seat belts as found in the original. The build number is etched into the carbon fibre centre console, just behind the gear selector.

Perhaps the most significant change inside is also the smallest. A tiny dial has appeared on the steering wheel, with a little flag in its centre. This engages track mode, while the rotating dial around it allows the driver to use the new 'Torque Rear' mode. Confusingly, it's the same name as Audi gives to the system in the RS 3, even though that car has four-wheel drive and the system works in a completely different way. 

In fairness, the R8's system is a little more nuanced than the RS 3's. Essentially, it's a seven-stage adjustable traction control, which lets the driver choose exactly how much slip they would like, whether hoofing the car out of a tight corner or when trying to engage in a controlled slide.

We'll come onto its finer points later, but that former quality is very important given the engine sitting behind you. The R8's heart is a 5.2-litre V10, with power climbing 50bhp compared to the R8 V10 Performance RWD to 612bhp. It's mated to a seven-speed dual clutch transmission whose shifts are faster than ever, and its ratios are shorter to improve acceleration.

Not only is it the most powerful rear-wheel drive R8, but it's also the lightest, too. The overall weight reduction is modest, but the 20kg saving is largely unsprung, with the bulk of it coming thanks to the very striking 20-inch 10-spoke alloy wheels, wrapped in Michelin Sport Cup 2 tyres. There's also a carbon fibre reinforced plastic front anti-roll bar, while the chassis is bolstered by optional adjustable coilover suspension.

That Torque Rear system proved to be very effective on track, where we were greeted to the Circuit de Monteblanco in unseasonably wet conditions for Southern Spain. We played with the settings on the damp, greasy surface; in its most conservative setting you can give the car pretty much full throttle out of a turn and the power is pegged back without any slip; dial it up to seven and it's all your right foot doing the work of keeping the back end in check. 

But it's in those middle settings where it starts to get interesting. The rear tyres will start to slip, but it'll be pegged to a strict limit, so you can control it to your exact preference. Around a drift circuit, this in effect means you can pick a middling setting, engage a slide and then hold it there on full throttle without the back of the car swapping places with the front. In either scenario, it feels progressive and natural to use.

The new adjustable suspension, lighter wheels and extra downforce contribute to a car that's not only raised its limits even further, but manages to inspire even more confidence at the same time. Our first lap was greeted with low speed understeer – the result of cold, track-focussed tyres on a damp surface. Once up to temperature, the limits were phenomenal. 

Approachable, too. There aren't many mid-engined cars at this level that leave you feeling so relaxed at the thought of powersliding the car on corner exit in the knowledge that it'll give you enough warning to gather everything up, but the information the steering and chassis is constantly feeding the driver make it feel almost normal. 

If you're not completely satisfied with the balance, then the ability to tweak the bump, rebound and ride height of the coilovers should give plenty of scope for perfecting things.

Brilliant though the chassis is, it's still very hard to overlook that engine as a highlight. The R8's V10 is undoubtedly one of the greatest engines of all time, and here it makes the car faster than ever. The GT chalks off the 0-62mph dash in 3.4 seconds, 0-124mph in 10.1 seconds, and it'll keep going to 199mph. The noise is glorious; rich and deep at low revs, transforming into a full-bodied howl towards its 8,700rpm red line. That it's paired to a near-flawless dual clutch gearbox just makes it even more satisfying to use.

That gearbox is equally happy when shuffling around town, too. Having only ventured on track, we can't comment on the ride, but the range of adjustability leaves us confident that it at least could be as compliant as the standard R8 in the right settings.

| | |
| --- | --- |
| Model: | Audi R8 Coupe V10 GT RWD |
| Price:  | £200,000 (est) |
| Engine:  | 5.2 V10 petrol |
| Power/torque:  | 612bhp/565Nm |
| Transmission:  | Seven-speed auto, rear-wheel drive |
| 0-62mph:  | 3.4 seconds |
| Top speed:  | 199 mph |
| Economy/CO2:  | 18.8mpg/340g/km |
| On sale: | Now |

Source: Read Full Article