Hyundai's seven-seat SUV is back with a radical new look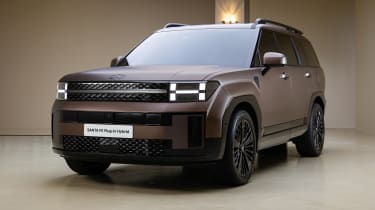 Most high-volume car makers have a large SUV offering in their line-ups – and now there's fresh competition in the shape of Hyundai's new sixth-generation Santa Fe. The original Santa Fe launched 23 years ago and the new car aims to build on a reputation of family-friendly practicality. 
Both Hyundai and sister company Kia are spending a lot of money on their EV offerings, but internal-combustion-engined cars such as the new Santa Fe are clearly still important. The all new Santa Fe goes on sale at the beginning of 2024, shortly followed by a facelift of its sister model from Kia, the Sorento. 
Just like the old car, there's a mix of hybrid and plug-in hybrid power for the Santa Fe, with the Ioniq 7 due to take up the role of a family-friendly, all-electric large SUV in the Hyundai line-up.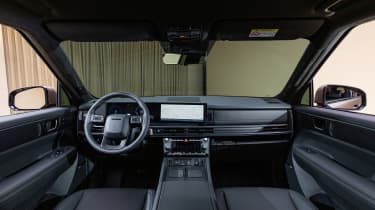 The hybrid powertrain is made up of a new turbocharged 1.6-litre petrol engine with electrical assistance, mated to a six-speed automatic. It's good for 178bhp and 265Nm of torque, allowing for a 9.5-second 0-62mph time and 118mph top speed. Hyundai claims a figure of 36.4mpg on a combined cycle. 
As for the plug-in hybrid unit, it's also a turbocharged 1.6-litre petrol engine with a larger battery – the latter's size hasn't been revealed by Hyundai yet but we expect it to be larger than the 13.8kWh unit in the previous Santa Fe PHEV. We also expect it to have a longer range than the old car's 36 miles, although the 0-62mph time has increased from 8.8 seconds to 9.1. 
The new Santa Fe gains some influence from the all-electric Ioniq 7 SUV, with a bluff, intimidating front end and plenty of angular, blocky surfacing. The Santa Fe also features a full-width LED light bar and 'H-shaped' headlights that "harmonise with the H-motif" on the front bumper – according to Hyundai. 
The wheelbase has been lengthened but to create a more imposing stance there are chunky wheel arches that house 21-inch alloy wheels. The rear lights are H-shaped, echoing those up front, and the 'Santa Fe' name is emblazoned across the bootlid.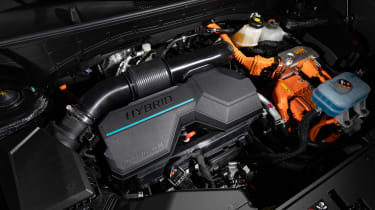 That extra length between the wheels means interior space has improved. Hybrid versions gain 20mm in second-row legroom and a 15mm increase for the rear passengers. Headroom has also extended by 69mm in the third row. 
Up front, the most obvious change inside is the curved dual screen display, like you'd see in a BMW iX. The 12.3-inch digital instrument cluster is now connected to the central screen where we expect to find Hyundai's latest infotainment system. Nappa leather and wood finishes help give the Santa Fe's interior 'sophisticated style', according to Hyundai. 
A large control panel located lower on the dash primarily houses the climate control functions, with physical dials and buttons for the temperature and audio. The Santa Fe will be sold exclusively as a seven-seater and both the second and third row of seats can fold completely flat. 
Need seven seats? These are the best cars to choose from…
Source: Read Full Article