The popular Renault Clio supermini has picked up valuable updates and a sporty esprit Alpine trim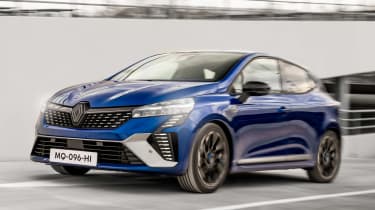 The Renault Clio has been given a substantial makeover for 2023, with the French brand unveiling a sharp new look for its popular supermini and the addition of a sporty esprit Alpine trim level. The Clio is a crucial model for Renault, both in European and British markets, having sold more than 16 million units since it was first introduced in 1990, 1.1 million of those being sold right here in the UK. 
Key changes to the new Clio focus on styling and tech, including a dramatic new face with design elements inspired by the firm's Megane E-Tech Electric family hatch and Scenic Vision concept. 
Top 10 best superminis to buy 2023
The new Clio's LED headlights are slimmer than before and are joined by a dramatic lighting graphic that will feature across the wider Renault range in time. The LED units come in conjunction with a sharper new bumper design, fresh colour options and new wheel designs of up to 17 inches.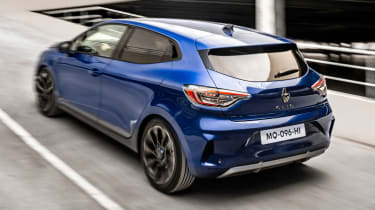 Inside, Renault has focused on improving material quality and the car's digital interfaces. All Clios feature either a seven-inch or 10-inch digital dash depending on spec, joined by a 9.3-inch touchscreen that now supports wireless Apple CarPlay and Android Auto. 
Alongside Renault's focus on better quality materials within the cabin, the brand has also focused on sustainability. There's no longer any leather inside, while the majority of the fabrics used are partially made from recycled materials. 
Renault will launch the new Clio with a new top-spec esprit Alpine trim level that replaces previous R-Line models, creating a stronger link to its sporty Alpine sister brand. This trim level features contrasting exterior elements on both the front and rear bumpers, plus bespoke wheel designs. The esprit Alpine model also features a sportier interior, with more heavily bolstered seats finished in dark-coloured technical fabrics, highlighted by blue stitching. 
The Clio will be available with a single E-Tech hybrid powertrain option in the UK paired exclusively to an automatic transmission. Producing a maximum combined 143bhp, the Clio is capable of running purely on electricity at speeds of up to 40mph for short distances.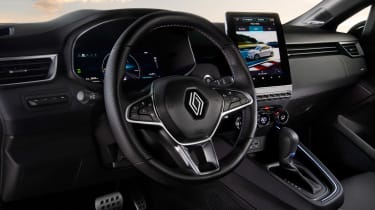 Renault has not outlined fuel economy figures but has confirmed a CO2 rating of 93g/km, a 6g/km improvement over current Clio E-Tech, which itself is rated at 64mpg – suggesting a slight improvement in the new Clio's combined fuel economy will be on the cards. No performance data has been revealed either, but the current Clio E-Tech just slips under the 10-second marker from 0-62mph, topping out at 112mph. 
The new Clio will enter a challenging supermini market. Despite the Ford Fiesta going out of production this year, key rivals like the Vauxhall Corsa and Peugeot 208 have proven to be extremely popular in both combustion-powered and full-electric form. The new Clio, on the other hand, will slide between the two, offering an efficient hybrid alternative, leaving its all-electric Zoe and the forthcoming R5 to occupy the all-electric supermini space. With the demise of the RenaultSport brand, the new Clio won't form the basis of a compact hot hatchback either. Instead, Alpine will be tasked with developing a hot small EV, which could be revealed later this year.
The new Clio E-Tech will arrive in the UK this summer, with prices due to start at less than £22,000, making it cheaper than the current Clio E-Tech's base price of £22,095.
Now read more about the upcoming Renault 5…
Source: Read Full Article