We plan to ride on our 2012 Royal Enfield Classic 350.
BHPian rama031087 recently shared this with other enthusiasts.
Hi All,
My friend and I are planning to travel from Bangalore to Khardung La on our Royal Enfield Classics 350 (2012 make). We are both over 35 years of age with reasonable fitness. Need advice on physical, mental, mechanical and logistical preparedness to make this trip safely. Here is the schedule that I have created based on some basic research. Please let me know the practicality of it and provide your insights on making it safely back home.
We intend to ride from Bengaluru to Khardung La, visit Amarnath, Kargil War memorial and Vaishnodevi and return to Delhi. From here, we will take a train back.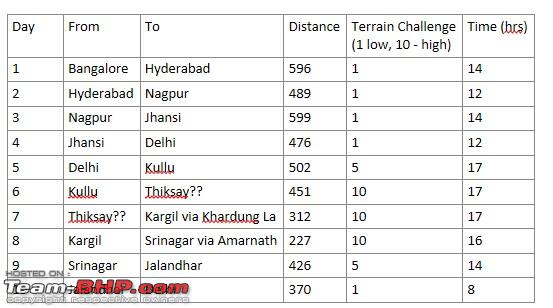 Here's what BHPian am1m had to say on the matter:
Make sure the bikes are in good shape, especially the tyres. Carry spare clutch and accelerator cables. Pack light. Make sure the bike is carrying the luggage and not your back. Woollen gloves are warmer than leather ones. Spend as much time as required acclimatizing at Leh and from Leh onward. Even if that means shipping the bikes by train to Delhi. Anyway, the real riding fun is in the mountains, not the boring highway journey from Bangalore to Delhi.

Lots of detailed descriptions in the travelogue section of the forum, of the actual journey. So you could go through those to get an idea of the itinerary.

Having done this trip twice, in hindsight, I would now say skip the Bangalore-Delhi ride and even the ride up to Khardung, nothing great about riding up there apart from the photograph. Spend more time exploring the Nubra Valley, Pangong, and some of the more isolated monasteries. But of course, I understand the pull/attraction of the 'highest' mountain pass on one's bike.
Here's what BHPian windrider had to say on the matter:
I and a couple of friends did something similar back in 2014. We rode from Kerala to Leh and back over almost 2 weeks. In hindsight, I wish we had sent our bikes via train to Delhi and started riding from there. We spent a good chunk of our budget on getting from Kerala to Delhi. Getting to Delhi itself was a chore. The heat, Dust, traffic and bad roads themselves took a toll on us, and we did this trip in our early twenties. When I think back, we could have shipped our bikes to Delhi, done the Leh trip and then rode back leisurely down to Kerala. Few things you should do/learn:

Get a portable air compressor/tyre inflator or get one connected to your motorcycle electrical system if you know a good Electrical workshop. When you are doing such a long trip on such roads, at least one puncture is guaranteed and getting stuck in the middle of nowhere with a flat tyre is no fun.
Learn how to change tyres and fix punctures. Changing a tyre or fixing a puncture will take a lot of time if you are unfamiliar with the process and it will take even longer when you are doing it with frozen fingers.
Carry a set of tools and learn how to do basic repairs/maintenance. Be sure to take a replacement clutch cable, accelerator cable, clutch and brake levers(in case you drop your bike and need to replace them) and a headlight bulb. At one point in our trip, my friend's Karizma bulb fused but we were somewhere around Jaipur and he had to only travel about 15-20 mins without light before we could find a replacement bulb.
Start riding early and stop as soon as the sunlight starts fading or you feel tired. Stay hydrated and don't forget to take breaks to stretch and relax once in a while. Would be better if you booked rooms in advance. Trying to find a place to stay once it gets dark is difficult and hotels/lodges also jack up rates once they know you are desperate to find a place to sleep.
Be careful of what you eat and drink only bottled water. My advice would be to stick to vegetarian food and only from reputed hotels/restaurants. Food poisoning could derail your entire trip. Be sure to carry medicines.

To be honest, Your schedule looks a bit too tight. For the first 4 days, you will be riding 500-600 km a day. That means you will be on your bike from morning till night and you don't plan to visit any places en route to Delhi. All you will be doing is riding on the highways which let me tell you can become very boring once the initial euphoria wears off. My advice would be to go to Delhi via train and ride from there. You can always ride back to Bangalore on the return leg if you have the time and energy

Cheers have a safe journey
Here's what BHPian Dodge_Viper had to say on the matter:
Note that you are riding Classic 350. Not sure what's the maximum distance you have done in a day but factor this, Classic 350's sweet spot is 80kmph. Anything more than that vibrations will kick in hard and will tire you out. At the end of the day, your hands and feet will still keep on vibrating. Also, your bike will have luggage.

I did Mumbai – Leh – Mumbai on a fully loaded Classic 350. And 500-600 odd kms a day for 3-4 days nonstop will tire you out.

Apart from the usual standard suggestions I would suggest you modify the seat and get a backrest installed, assuming you are not riding a pillion. Also, get a set of footpegs drilled into the crash guard. If possible change your handle to such that you can lean on your backrest and still be able to hold the handlebar. Trust me this setup will help tremendously.

This was my setup. Don't have the actual Ladakh trip photos right now in my phone.
Check out BHPian comments for more insights and information.
Source: Read Full Article