I slowed down & moved to third lane and slowly near the edge of expressway and continue to drive very slowly further ahead for safe place to stop the vehicle.
BHPian FiatDiesel recently shared this with other enthusiasts.
I have never imagined to be stranded with two flat tyres simultaneously. While I share the details, I also need opinions from experts hence dividing my post into following sections:
Incident details.
Three tyre bursts in last three months / 3000 KM's
Current status.
Relevant pictures.
Incident details:
I was thinking about writing a travelogue of my Varanasi trip from Pune while driving down early morning towards Pune during my return journey from Varanasi this Sunday 26 Mar on Samriddhi expressway and is jolted by loud burst noise.
It was 5:30 AM we were nearing Karanja (Lad) exit & rear right tyre explodes with TPMS giving warning of flat tyre. Fortunately, I had slowed down from 115 KM/hr to around 80 KM/hr and have moved to middle lane as my son asked for a loo break and the signages were indicating an exit hence had slowed down.
As soon as the tyre explodes & TPMS gives warning, a huge sense of disbelief & frustration comes in my mind immediately, given the fact that very recently we already had a tyre blow out while returning from Amritsar in January after new year vacation.
It was dawn with low visibility. I slowed down & moved to third lane and slowly near the edge of expressway and continue to drive very slowly further ahead for safe place to stop the vehicle as Karanja exit was only 100-150 meters away. Due to exit, it gave an additional exit lane to expressway, and I stopped my car as much inside the lane as possible with hazard lights on so that it doesn't comes in between the primary 3 lanes of this high-speed route while sufficiently being visible at same time.
I step out, check the tyre, its deflated. Get back into the car thinking again of the whole exercise of RSA and loss of couple of hours.
It must be around 5:35 AM, I tap on I-Call on central screen and receive call from MG support immediately on the unit. The lady asks for the issue, I inform her about flat tyre while looking at TPMS screen on driver MID & as I speak TPMS gives low pressure warning on front left tyre as well. I am horrified as two tyres in parallel are giving low pressure warning within minutes of each other & my home is good 600 KMs away. I inform the support executive and she informs me that way of handling the issue will change between one flat tyre and > 1 flat tyre so she wants me to confirm if it is 1 or 2 flat tyres. I ask her to wait as I have tyre inflator in my car & wanted to check how much low pressure it is in front tyre. I quickly get down, grab the tyre inflator from dicky, plug it and its 22 PSI. It was 34 PSI as cold tyre before I started the journey, also had glanced through the TPMS for the tyre pressure & temperature while entering the expressway. All looked normal at that point however now after 150+ KM's it was altogether a different story.
I could also hear hissing sound when I was checking the pressure of the front left tyre indicating air gushing out of the tyre rapidly through some hole.
I return back to the ongoing call with MG support center, she confirms the location she has received from vehicle, my registered phone number and informs that I will get call from RSA team soon.
Within 5 minutes I get call from RSA team, they confirm the situation & I check with them if technicians can fix puncture (if it is fixable) of front left tyre when they arrive so that I drive down with the car to Pune (with rear one replaced with spare). They inform that puncture fixing is not done by technicians as they don't carry those tools, they can just replace flat tyre with spare tyre in car. They informed that car needs to be towed to nearest MG service center as it has two flat tyres and it will be MG Nagpur. I inform them that my base location is Pune, and I will prefer if it can be towed to Pune. Executive informed that in MG Shield RSA is free of cost till nearest service center which is 200 KMs in Nagpur while Pune is 600 KM's. And if I want to take it to Pune then I will have to bear the cost of balance 400 KM's (200 KM charge will be borne by MG) to and fro for the flatbed which is normally Rs 50/KM (depends on vendor) excluding tolls. It came roughly to Rs. 40K which didn't make any financial sense. RSA executive also mentioned to me to not to worry and vehicle will be taken care properly in Nagpur as it would have been taken care in Pune so I should not spend money- on towing vehicle to Pune.
Now my next query to him was what about us? Do they provide or facilitate taxi for folks onboard the vehicle. He said "Yes" and its free of cost to your destination (except tolls). I was surprised and reconfirmed that it will be till Pune, He confirmed again & asked me if he should take RSA taxi request as well. I confirmed to him immediately and it brought down my stress level substantially.
He further confirmed if there is sufficient space in front of my vehicle for the flatbed truck to arrive, move around & for its ramps. Obviously, that was not a problem at the place we were stranded.
So now we had two requests placed with RSA which they were working on:
Flatbed for Hector for MG Nagpur.
Taxi for us to Pune.
All this happened till 6 AM. And between 6 to 7 AM I got multiple calls from two teams (one of flatbed & other for taxi) about the status of request, vendors for exact location on WhatsApp etc.
By 7 AM I received confirmation that flatbed is on its way and will reach us before 9:15 AM. Taxi confirmation was still pending however I informed the taxi team to ensure taxi also reaches us before 9:15 AM as I don't want to be in situation standing with complete luggage & family on high-speed expressway under the board mentioning "No standing, No stopping..".
While all this was happening, I spent time in checking the tyres & started searching for puncture guys in Karanja. I found a number on Google whose location was 5 KM from me. I called him however he flatly refused as two wheelers are not allowed on expressway. I also got the front tyre on jack to check from where the air was leaking, inflated it through tyre inflator & found approx 1 inch cut in middle of the tyre from where the hissing sound of air escape was coming. I called the puncture guy and asked him if he can fix this just in case if he is able to come, he said it can be fixed but then he would recommend the tyre to be used as spare tyre. It will be not fit for regular usage. This feedback closed this alternate approach, and it made sense to MG to investigate.
In the meantime, I get update that taxi is also identified around 70 kms from our location and will reach us by 9 AM which was a relief.
I started getting calls from both drivers from 8:30 AM onwards as they were approaching our location and both of them arrived by 9 AM. Hector was loaded on flatbed. Vehicle job card was prepared and handed over to me by the vendor and he took the car keys.
We sat in the taxi and both vehicles started in opposite direction with flatbed taking Karanja exit to return to Nagpur and we are going straight on Samriddhi towards Pune via Shirdi. Not a happy moment for an enthusiast and family who love their car.
I got confirmation around 3 PM that vehicle has been delivered to MG Nagpur & us also reached Pune by evening.
Overall MG RSA gave us a superb service, very polite, prompt and on their toes to get us help at this remote location.
Three tyre bursts of my Hector over the span of 3000 KM's:
As you would have noticed in my previous post, earlier this year in January while returning from Amritsar, my car suffered tyre burst of rear left tyre. The tyre had a big cut from center of tread and reason provided was that it must have had some impact. I also didn't delve much into it and considered as one-off case. This happened when car had done 27000 KM's.
Varanasi trip was very next long-distance trip we took last week in March. I drove all the way up to Varanasi from Pune (~1500KMs) via Shirdi – Samriddhi expressway – Nagpur – Jabalpur – Rewa. Our return route was also same and after about ~800 KMs into return journey two tyre bursts happened with one again with loud bang with cut towards outer tread of tyre and other one having 1 inch cut with air gushing out. Car had run 30000 KMs by now.
My car also went through 4th service recently in March and no concern was raised by service center for tyres. They had decent tread remaining and overall, no cuts etc apart from normal wear of tread.
Current status:
MG Nagpur has provided following feedback:
Both tyres need to be replaced.
Rear alloy wheel has damage though not visible, but it is not usable as per them. It needs to be replaced.
Front alloy wheel also has damage but not as much as rear one. They prefer it to be replaced as well.
They have recommended to go for insurance claim as tyres are out of warranty & my insurance does have rim & tyre cover.
They have filed the claim today, most likely car will be surveyed tomorrow.
Relevant pictures:
Tyre burst in January while returning from Amritsar, rear left tyre.
Tyre burst on last Sunday while returning from Varanasi, rear right tyre.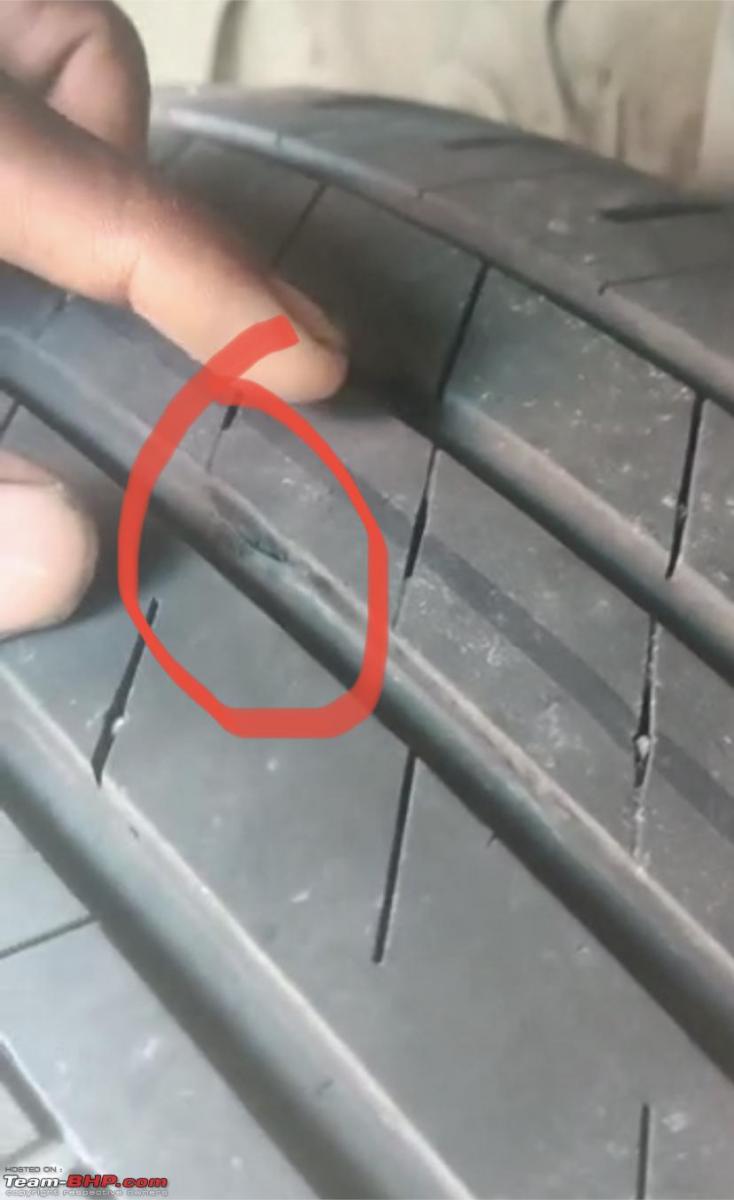 Around 1 inch cut in front right tyre through which air was escaping.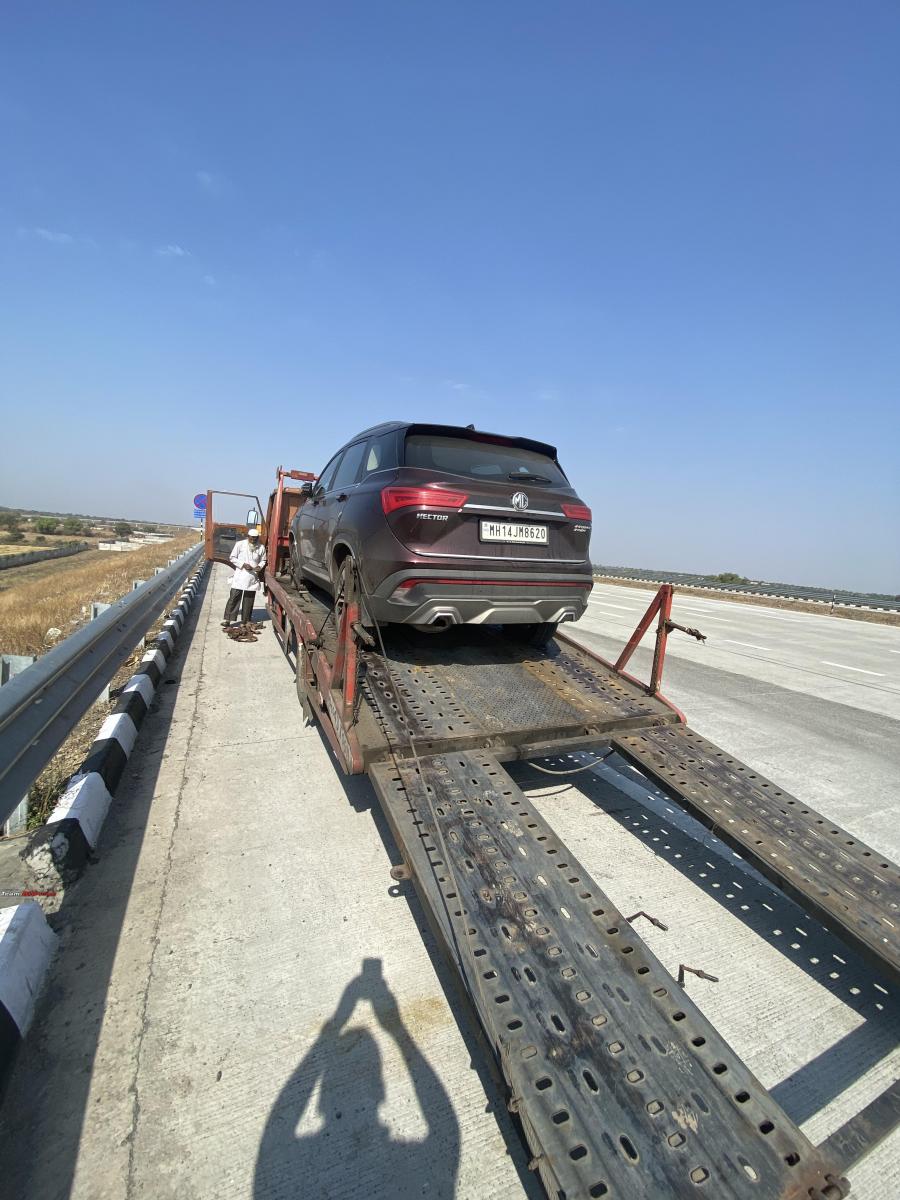 Hector loaded on flatbed.
Check out BHPian comments for more insights and information.
Source: Read Full Article