New injunction covers the entire National Highways strategic road network, but protest group looks set to disobey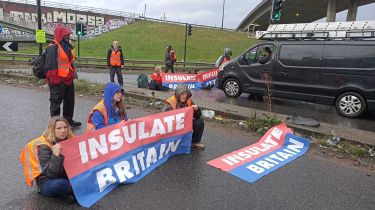 A new injunction has been granted to prohibit protestors from blocking the National Highways strategic road network of motorways and major A roads, in the wake of Insulate Britain resuming its disruption of roads in and around London.
After a 10-day break from protesting, the group returned to block roads on Monday 25 October. Transport Secretary Grant Shapps accused them of "risking lives" and "ruining journeys" when he announced that the fresh injunction he had applied for had been granted on a temporary basis by the High Court.
'A £1,000 fine for anyone illegally protesting on the road seems fair'
The interim injunction forbids "activities that obstruct traffic and prevent access to 4,300 miles of motorways and major A roads" and outlaws "activities which cause damage to the road surface and infrastructure". The latter includes examples such as protestors gluing themselves to roads.
Those who breach the injunction will face prison time and fines, as well as a bill for court costs, but Insulate Britain doesn't seem put off. The group has released a statement in which they "declare the M25 a site of nonviolent civil resistance".
The protestors, who are calling for better housing insulation, are planning to continue protests on the M25 from 7am on Wednesday 27 October, urging those sympathetic to the cause to either avoid using the road or drive on it at no faster than 20mph.
According to the Metropolitan Police, 53 arrests were made after the group's latest round of roadblocks in London, in which 63 protestors obstructed main routes in and around the City of London.
One protestor glued his head to the road, having to painfully free himself with scissors, while others glued their hands to the ground. Mayor of London Sadiq Khan said housing insulation was an "important cause", but that the methods Insulate Britain was using would only drive people away. He called on the group to stop its protests.
Previous Insulate Britain protests have targeted Dover docks and the Blackwall Tunnel, as well as the M1 and M4 in and around London.
Do the police have powers to remove protesters? 
At present, wilfully obstructing a public highway is an offence under the Highways Act 1980. Those found guilty can be given a maximum fine of £1,000. 
Kent Police told Auto Express that when dealing with a human roadblock, officers will speak to protestors and determine how long they aim to continue. If disruption is planned for a few minutes, the police may wait it out, but longer protests have to be dealt with more actively. 
The police have the power to remove protestors from the road and arrest them, but the challenge lies in ensuring no one is injured in the process. This is especially difficult when protestors physically attach themselves to surfaces or objects using glue, for example.
Do you agree with the protestors? Let us know in the comments below…
Source: Read Full Article