We round up the best used hatchbacks for 2021 – cars that are great for practicality, running costs and comfort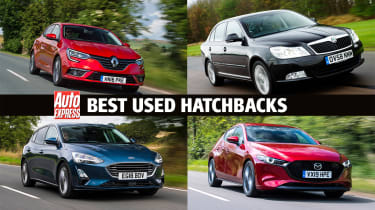 A used hatchback could be just about the best all-round transport you can buy. These models are designed to be good at everything, and there are so many models out there that offer just that.
There's an enormous amount of hatchbacks available on the second-hand car market, so we've picked out some of the best choices, which you can find below. Each one succeeds in being a great all-rounder, suitable for being your only car all year round.
Best hatchbacks to buy 2020/2021
The family hatchback class is made up of cars that are around the same size as a Volkswagen Golf or Ford Focus – those cars are often seen as the benchmark in the class. They often come with a huge range of trims and engines, from lowly 1.0-litre petrol models without air-con all the way up to fire-breathing 300bhp hot hatchbacks with all the toys you can think of.
Yet the best of the breed for most people is somewhere in between – a small petrol or diesel engine that brings high fuel economy and good reliability, plus a spacious interior with all the equipment you need and nothing you don't. Read on for our picks.
The best used hatchbacks
Skoda Octavia
Volkswagen Golf Mk7
Ford Focus
Vauxhall Astra
SEAT Leon
Kia Ceed Mk2
Renault Megane
Mazda 3
Skoda Octavia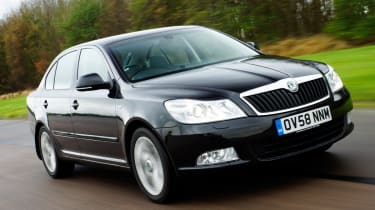 The newest Skoda Octavia was our overall Car of the Year in 2020. Yet while that new car has a little more tech and some plusher materials, a second-hand Octavia gives you almost as much practicality, even more affordability, impressive versatility and lots of efficiency. It's a perfect and pragmatic used car buy.
Whichever version you go for, the same great traits remain – mainly, the 590-litre boot. The hatch reveals a huge load space that means most families won't get near the extremes of the Octavia's practicality.
It's not a car that tugs at your heart strings, but think with your head, and the Skoda is the most sensible option in this class; little touches, such as an ice scraper in the fuel filler door and an umbrella in the cabin, show Skoda has seriously thought about how owners will use the vehicle, and that makes it easy to live with.
The huge amount of space in the rear seats means the Octavia is still a class-leader, even on the used market, while the simple but effective dash design combines great infotainment in the facelifted model with plenty of family-friendly storage.
The Octavia is based on the same chassis as the VW Golf and SEAT Leon (see below), so it steers with a similar level of precision, but its ride is a little softer. The example we'd look for is a 113bhp 1.0-litre TSI model, which offers more grunt than you'd imagine, giving the car satisfactory flexibility, but also plenty of long-distance cruising refinement.
See the latest used Skoda Octavia prices on our sister site BuyaCar…
Volkswagen Golf Mk7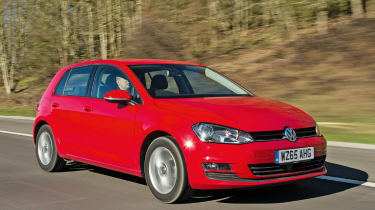 Just like with the Skoda Octavia above, the Volkswagen Golf has just been replaced with a new model in the showrooms. Yet the Mk7 model that came before was arguably an even better car than the new one, and is now available at a great price if you buy second-hand.
There are a huge amount of choices when it comes to engine and gearbox options. We'd go for a 1.0 or 1.5-litre TSI engine, as these are efficient, quiet and easy to drive. The manual gearbox is a better bet than a DSG automatic as it's more reliable and smoother (the auto tends to be a bit jerky in traffic).
There are Estate models as well if you need more practicality – yet since the normal Golf has a big boot, lots of room in the back and plenty of in-car storage, you probably won't. The Golf is good at just about everything, so it's an easy recommendation and there are thousands for sale at any one time. It's a brilliant choice.
See the latest used Volkswagen Golf prices on our sister site BuyaCar…
Ford Focus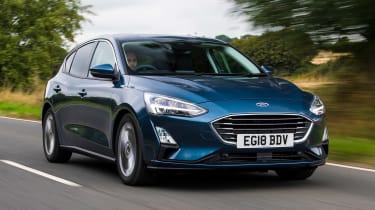 The Ford Focus is a great choice of used hatchback if you care about how a car drives. The Focus is one of the most entertaining hatches you can buy, and sits alongside the Mazda 3 in this list when it comes to driver enjoyment. It has quick and responsive steering, punchy engines, a comfy yet controlled chassis and a lovely manual gearbox.
The EcoBoost versions deliver good fuel economy yet are still fun to use, or there are diesel options for those doing high mileages on the motorway. The Focus is comfy and refined at speed, so it's great no matter what kind of road you're on.
It's spacious enough for most, but it's not as practical as the Golf or Octavia – the rear seats aren't quite as roomy.
See the latest used Ford Focus prices on our sister site BuyaCar…
Vauxhall Astra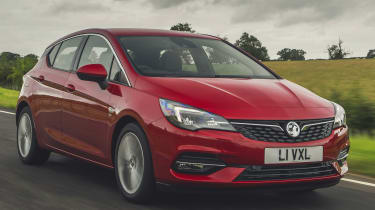 The Vauxhall Astra's anonymous looks hide what is a fantastic everyday car, so don't overlook it. It's made even better by the fact that there are loads for sale at excellent prices, so it's a bit of a bargain.
The Astra is fun to drive thanks to a range of surprisingly punchy engines, especially the diesels, and an entertaining chassis that stays composed on country roads and is fun through bends. The interior is bland, but it gets the job done, with plenty of tech and comfy seats.
There are auto and manual versions, and while the manual is more fun, the auto is great for those who regularly commute in traffic.
See the latest used Vauxhall Astra prices on our sister site BuyaCar…
SEAT Leon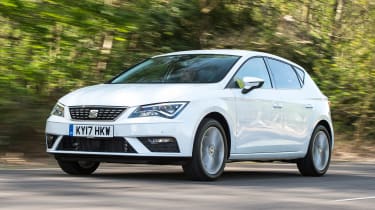 The SEAT Leon is a sister car to the Skoda Octavia and Volkswagen Golf, and it's the sharpest to drive of the trio. It has the same engine range, so we can again recommend the 1.0-litre or 1.5-litre TSI petrol units for their frugality and quietness.
You might want to look at the Leon instead of the Golf or Octavia because it's also the most stylish – we reckon the sharp looks are the best of the three. It's good value and comes with loads of tech including smartphone connectivity on most models, so you don't need a version with sat-nav since you can use Android Auto or Apple CarPlay instead.
The Leon is practical, with a big boot and roomy rear seats, and while it's a little stiffer than the Golf or Octavia, it's not uncomfortable.
See the latest used SEAT Leon prices on our sister site BuyaCar…
Kia Ceed Mk2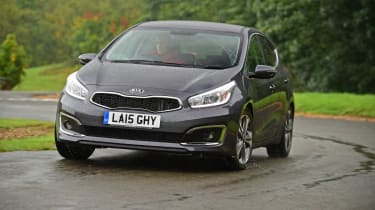 The third-generation Kia Ceed is a much better car than the Mk2 that we're focusing on here, but it's still fairly new so it's quite pricey at the moment. What really appeals about the second-gen car is that it's now very cheap to buy, yet there are models out there that are still covered by the factory seven-year warranty. A 2018 model will still have five years left, which is more than most new cars get.
That means you can be sure that the Ceed will be reliable, and while it's not much of a driver's car, it's comfy enough. It's practical and roomy enough for the family, and has a decent boot. Best of all it's powered by a range of petrol and diesel engines that are very economical, particularly the 1.6-litre diesel which makes a lot of sense for high-mileage drivers.
See the latest used Kia Ceed prices on our sister site BuyaCar…
Renault Megane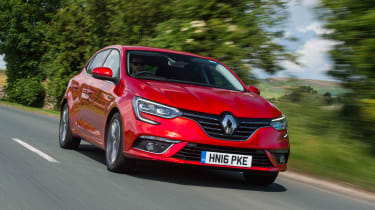 The Renault Megane is one of the most stylish cars on this list, so may appeal as a family car on that basis alone. Yet the Megane backs up its looks, as it's a great family car with a big boot, lots of room for passengers and an enjoyable driving experience.
It's not the most fun hatchback around unless you choose the impossibly good RenaultSport models, though these cars are much more expensive as they're sought-after by enthusiasts. The basic Megane is comfy and relaxing enough for most, however.
There's a good amount of choice when it comes to engines, and technology is good too. The touchscreens are a bit fiddly to use, though, so check you're happy before buying.
See the latest used Renault Megane prices on our sister site BuyaCar…
Mazda 3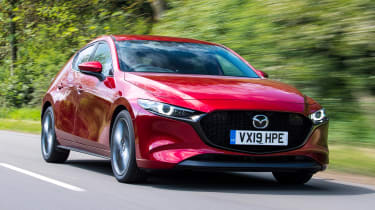 Along with the Ford Focus, the Mazda 3 is the best-handling car on this list and will appeal to enthusiasts the most. Yet this isn't because it's fast or obnoxious, rather the opposite – it's just really well engineered and satisfying to drive.
The gearbox is the best example – it's slick and incredibly good to use. The engines are just as smooth, and deliver good fuel economy despite their large size – the 2.0-litre engines are roughly equivalent to the 1.0-litre turbo units in rivals, because they're naturally aspirated, but tuned for economy.
There's not as much room inside as in the Octavia and the like, but if you love driving then the comfy, fun and frugal Mazda 3 could be a great left-field choice.
See the latest used Mazda 3 prices on our sister site BuyaCar…
Source: Read Full Article