New range-topping member of the e-tron line-up will be revealed on 9 November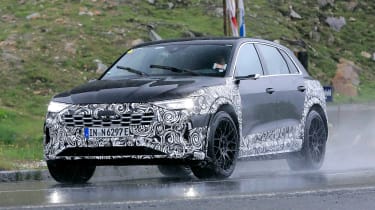 Audi has confirmed that it will introduce a new member of its e-tron all-electric line-up on 9 November, which will be a heavily facelifted version of the e-tron SUV and Sportback wearing a new badge: Q8 e-tron. 
The e-tron SUV, revealed in late 2018, was Audi's first production electric car and made it to market as one of the very first electric SUVs from a mainstream manufacturer. Subsequently, the e-tron has been matched or overtaken by a flood of rivals using bespoke electric platforms, so the heavy facelift will bring not just a new name, but optimised battery and motor technology along with a revised appearance intended to align the model with the rest of the rapidly growing e-tron range. 
Best electric SUVs to buy now
There will be redesigned front and rear bumpers to help deliver a more aerodynamic package overall. The headlights will also undergo a slight tweak but the Q8 e-tron shouldn't be too strong a departure from the outgoing e-tron. 
We expect the front grille to be reshaped to appear similar to that of the Q4 e-tron, but teaser images suggest that the rear of the car will be largely unchanged, using the same full-width LED tail light bar as before. 
The new car will still be based on MLB evo, a converted combustion-engined platform. The compromises of this platform have been exposed, not only by competitors but also by the lower, sleeker e-tron GT four-door coupe, which sits on a bespoke electric architecture shared with the Porsche Taycan. The forthcoming Q6 e-tron SUV, which sits on the next-gen PPE platform, is also likely to have a significant advantage over its larger sibling.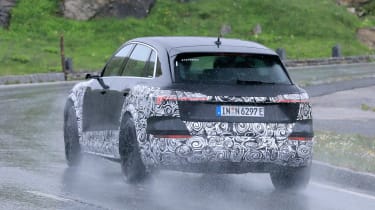 However, Audi's board member for technical development, Oliver Hoffman, has revealed to Auto Express earlier this year that the e-tron will get significant upgrades to its electrics and battery when it is facelifted in the second half of next year. "We are very clear: with Q6 e-tron we have B-segment [C-segment in the UK] while the e-tron is focusing on C-segment [D-segment to British customers]," Hoffman said. "The e-tron really is a special car for Audi because it was really the pioneer of electric mobility for us.
"So it's important to keep the car fresh, and therefore we are developing a big update in terms of range and charging time."
Hoffman declined to discuss specific figures, but the increased energy density could allow Audi to beef up the maximum battery capacity to more than 100kWh. This, combined with increased efficiency from its electric motors, could give the e-tron range comfortably north of its current maximum, 249 miles. A figure of more than 300 miles is almost certainly Audi's target.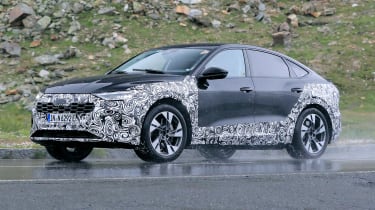 The updated e-tron isn't likely to match the Q6 e-tron's expected 350kW recharging speed – that's based on 800-volt technology that isn't stitched into the existing model's platform – but Hoffman's admission that charging speeds will also be updated would indicate that an increase from the current 150kW rate is part of the plan.
The updates will allow the e-tron and e-tron Sportback to continue on sale for a conventional seven-year life cycle, before they are replaced by cars based on the VW Group's forthcoming SSP architecture.
Check out the best electric cars you can buy right now…
Source: Read Full Article