Tech giant Apple has plans to further its phone integration with control over more of your car's features, including air-conditioning and seat adjustment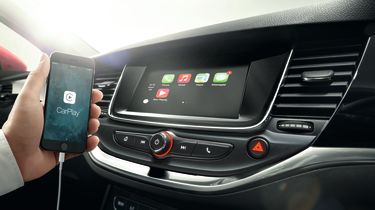 Apple is reportedly working on a project to further its devices' integration with cars, extending its CarPlay interface to also control functions such as the climate control and seat adjustment for compatible vehicles.
Codenamed 'IronHeart', the project is in its initial stages, as reported by financial publication Bloomberg, and its development would hinge on further cooperation with car manufacturers. However, this is a distinct possibility given the widespread adoption of Apple's CarPlay connectivity tech since the phone-based app was launched in 2014.
What is Android Auto? Full review and user guide
It's no secret that Apple has delved into the realm of vehicle development, with the tech giant placing a heavy focus on autonomous driving systems. This furthering of its software integration would allow Apple users to adjust their car's climate control settings and change their seat position, for example, through their device.
It's reported by Bloomberg that the functionality of the new system could also include inside and outside temperature and humidity readings, temperature zones and fan speed within the car, window defrost settings, as well as the speedometer and fuel gauge displays.
The tech will also reportedly build on CarPlay's existing offering when it comes to control over a vehicle's multimedia set-up, with more detailed adjustments to the stereo possible through equalisers and fade and balance controls.
CarPlay users currently have to switch between the Apple-based system and a vehicle's built-in multimedia tech to adjust many settings; if Apple were to further integrate its technology this sticking point could be negated for some drivers and passengers.
Apple's main rival Google has already branched out into the infotainment field with its Android Automotive operating system, improving the integration between users' compatible devices and their cars; Volvo, Polestar and Renault, with its Megane E-Tech Electric, all use this interface.
A more advanced Apple-based infotainment system might also allow the development of third party apps for vehicles in time. However, it's thought that development to this level might be met by reticence from car manufacturers, who could be reluctant to hand over control of some vital vehicle systems.
Check out the latest on Porsche's next-generation infotainment…
Source: Read Full Article